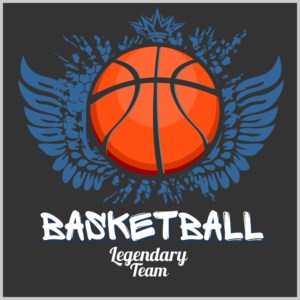 Throughout my basketball days, I've played for a number of different teams. My first basketball team was the Cougars. Then I played for the Knights. In college, I played for the Mustangs. In recreational basketball, my team called itself "The Fury."
Choosing a good basketball team name might not matter for high school or collegiate sports, but it does matter for youth and recreational leagues. A good team name should stand out and be memorable, but it shouldn't create controversy in order to do so. It should also be somewhat traditional, incorporate local flair, and be a reflection of the personality of the team.
Here are the factors that you'll want to consider.
#1. Sponsorships

If your team has a sponsor, then there is a good chance that the sponsor will want to have a say in name selection. Many sponsors like to have a clever pun or name that reflects what they do. If you have a bank sponsoring your team, settling on a name like the "Bankers" might not be romantic or exotic, but it will satisfy the sponsor who is giving you the money to play in the first place.
#2. Colors

Color can play a big role in choosing a great name for your basketball team. If your team colors are black and blue, then it wouldn't make much sense to call your team the "Reds." It would make sense to call yourselves the "Bruisers." There are plenty of teams that incorporate a color into their team name, like the Duke Blue Devils or the Punahou Buff and Blue.
#3. Humor

Organized sports don't generally bring a lot of humor into the team name, especially at the high school and college level, but there are some exceptions to the rule. In Illinois, there is one high school that calls themselves the Freeport Pretzels. A small town in Wisconsin named Dickeyville had their team name be the Trojans. Or there's the unofficial UC-Santa Cruz mascot of the banana slug to consider.
So it's okay to have some humor in your name – as long as it is appropriate. Trying to explain the Dickeyville Trojans to an upset parent of a 9-year-old wouldn't really be a fun experience.
#4. Interests

Sometimes a team wants to follow in the footsteps of their professional idols, so names like the Celtics, Bulls, or Lakers will be desired. Traditional team names, like Eagles, Hawks, or Tigers, are also pretty common. You might want to look at local interests as well, like the Lanier Poets or the Yuma Criminals.
#5. Animals

You can never really go wrong with an animal name. You avoid offending population demographics and you can have a lot of fun with the name. You could also creep people out with the right kind of animal. The Gabbs Tarantulas in Nevada are a classic example of this. Or you could channel the energy of the Fighting Sea Lions of Bataan Military Academy in New Mexico.
Choosing a good basketball team name should be a collaborative effort. Narrow the list down to 3-5 potential candidates and then let the team and their families vote. This way everyone has an investment into the final name – even if that means you end up calling yourselves the Unicorns, like they do in New Braunfels, Texas.
What's Next
Find more advice for beginners in our complete guide!