Do you prefer Adidas basketball shoes over other brands of shoes? You came to the right place. Adidas is one of the most popular brands of shoes for basketball because they are comfortable, supportive, stylish and durable.
But with the many Adidas basketball shoes out there, how do you even begin to sort through your choices? It's a good thing we are here because we can help you find the best adidas basketball shoes that suit your needs for comfort, style and performance. We only looked for the best ones that you can truly rely on when playing ball.
Comparison Chart for the Best Adidas Basketball Shoes 
Best Adidas Basketball Shoes Reviews Reviews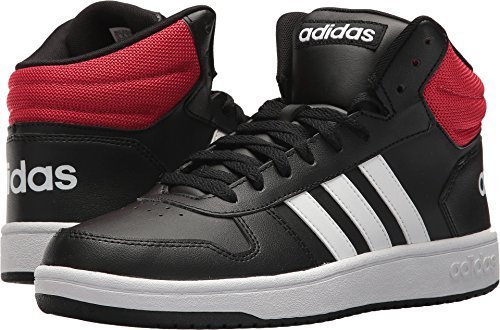 "These shoes are a great choice for the budget-conscious players who are looking for a reliable pair of basketball shoes that will not break the bank."
While we were initially attracted to this pair because of the price, it actually delivers well when it comes to comfort and style. These shoes have a more streamlined look to them, perfect for those who hate the clown feet look. Featuring a mesh collar and a leather upper, these are some of the most stylish pairs of shoes out there.
Pros:
These mid-top shoes are the best adidas basketball shoes out there not just because they are affordable but also because they are comfortable. Despite the leather upper, which is a material we don't usually associate with comfort, these shoes are surprisingly comfortable. Best of all, the mid-top cuff doesn't hurt and chafe the ankles in a bad way.
"These shoes are made more comfortable with their die-cut EVA sockliner cushioning."
We like the neutral color options. They go so well with everything, so if you are looking for more flexibility in your wardrobe, you might want to go for these inexpensive shoes.
These are comfortable enough to be worn as running shoes, so if you want something that can also double as running shoes, you will like these.
Cons:
Just like what one would suspect with a cheap faux leather shoes, these are a bit cheap-looking. If you don't mind that, it can be the best adidas basketball shoes for you.
Heavier people might not find the cushioning adequate. The insole is really just a piece of low-density foam that does not offer a lot of support or comfort. We wish these can be removed easily for replacement but you will also have to put in a bit of effort in removing the insole as it is attached rather permanently.
These shoes are a bit narrow. There's not a lot of room in the toebox, so we suggest sizing up. We also don't recommend this for people with wider feet.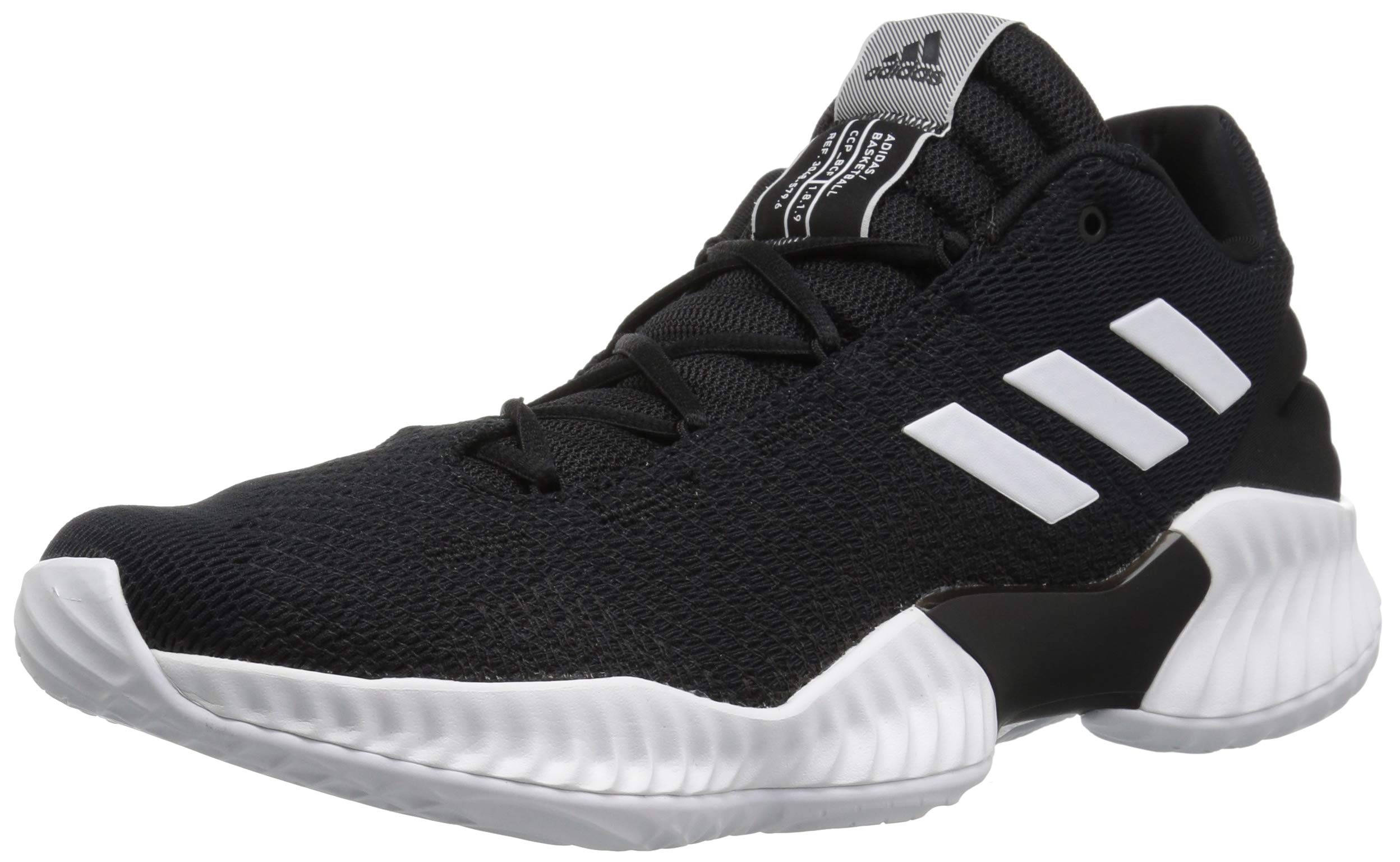 "These shoes are meant for people who are serious about basketball and who want to protect their feet from injuries."
We think these are the best adidas basketball shoes. They are great for anyone, professional basketball players or just an average person looking for a comfortable and supportive pair of shoes. These stylish and minimalist shoes feature a textile upper and a mid-cut appearance. The cable lacing system is supported by webbing eyelets.
Pros:
Whatever position you play, these shoes are good for you. These are designed for different players. The cushioning integrated in these shoes are supportive enough to accommodate burst movements. You can do pivot movements without hurting your ankles. The padded collar of the shoes works so well in keeping the ankles contained in order to prevent excessive movements that can lead to injuries.
"These are made from Forgefiber material, which is a kind of textile mesh material that is durable but is lightweight."
These shoes hold up well against a high level of abuse. The fibers used to stitch the shoes are TPU-coated in order to provide more durability.
We find the lockdown of these shoes the best. They feel very secure, so doing sudden movements and pivoting doesn't feel scary. You can make quick direction changes without worrying that the shoes will fail you.
The difference in price between this pair of shoes and the first one isn't that big but you can tell this has the better quality. The materials used look and feel more expensive.
We also like how lightweight these shoes feel. They don't tire the feet out even after a few hours of usage. You can definitely walk comfortably all day with these shoes on.
Cons:
It could use some more support for people with flat feet. Additional cushioning might help people who need more arch support.
It also takes some time to break in. That's not a deal breaker, but if you are in a hurry to start feeling comfortable in these shoes, that break in period can be a bummer.
The bottom of the shoes is not very durable. If you use them to play basketball on concrete, the rubber soles wear out quickly. They are more ideal for indoor playing.
"These are good modern-looking basketball shoes that are better for people looking for a wider toebox."
If you have wide feet and you don't find many of the shoes out there comfortable, you should consider getting this one. It is one of the best adidas basketball shoes because it offers so much more space for the toes, which can prevent discomforts when using these shoes for hours. Featuring a full grain leather upper, these shoes have the perfect mixture of style and performance.
Pros:
We find the design versatile. They are stylish enough to be worn in court but also attractive enough to be used with regular clothes. You will find these best adidas basketball shoes a great addition to your wardrobe.
"These best adidas basketball shoes have a cloudfoam cushioning for the most comfortable experience."
The cloudfoam is one of the softest cushioning systems out there, so these are really fit for extended usage. You can basically wear these and be on your feet for hours without suffering from feet strain or fatigue.
The grip of these best adidas basketball shoes are also great. Even when running on slippery gym floor, they still managed to provide the most comfort.
These best adidas basketball shoes are so comfortable, they did not require breaking in. You can pretty much wear them right after unboxing them and not worry that you will get blisters after.
Cons:
The laces are quite cumbersome because they are a bit long. You have the option of cutting the laces but that won't make the shoes look unattractive.
The construction of these best adidas basketball shoes could also use some work. Some parts start falling off after months of vigorous usage.
Conclusion 
It's not hard to understand why adidas still continues to be one of the most sought-after shoe brands. Their Adidas NEO Men's Cloudfoam Ilation Mid Wide is a sterling choice for all basketball players but most especially for players with wide feet. As you know, it's hard enough to find a good pair of shoes great for people with wide feet, let alone a pair of basketball shoes, so this is really a gem for people who need more room for their toes.
For the more serious basketball player, we find that the Adidas Originals Men's Pro Bounce 2018 is the best choice. It's responsive, it has a great style and it protects the ankles well. These are the best adidas basketball shoes for people who do a lot of explosive movements and who make a lot of twists and turns when playing basketball.
If you are an occasional basketball player or a hobbyist, we think the Adidas Originals Men's Vs Hoops Mid 2.0 will suffice for your needs. It's not as good as the previous two but it holds its own when it comes to comfort and style. These shoes leave something to be desired when it comes to durability but as long as you don't subject them to too much damage, you should be able to enjoy wearing them for a long time.
How to Find the Best Adidas Basketball Shoes 
We want you to make the best decision when buying, so here are a few pointers we suggest you go over when choosing the best adidas basketball shoes:
Materials 
Most basketball shoes today are made from some kind of textile material or synthetic leather material or both. Textile materials are more breathable and are lighter in weight, so they are better to use in the summer season when the weather can get too hot for playing basketball.
Synthetic leather is durable, but make sure you go for the ones with perforations in order to prevent heat from building up in your shoes. You would also want to make sure that the leather material is high quality and not some low-quality synthetic material that can flake off once the shoes have been exposed to moisture.
Style
What is great about the best adidas basketball shoes is that they always look so tastefully done. Their designs are great for those with more minimalistic aesthetic. But since you still have a lot of options to choose from, decide what kind of style will work better for you.
Do you feel more comfortable in a mid-top or a hi-top shoe design? Do you like the multi-colored shoes out there? You might want to go for style and color that is more suitable for everyday wear, so you can maximize the use of the best adidas basketball shoes.
"Already have an idea what style you want, so you can avoid being distracted with so many things when buying. (1)"
Comfort 
Check what kind of cushion technology is integrated in the shoes. Look for a cushioning system that doesn't just provide excellent comfort to the shoes but also support. It would be great if you look for shoes that distribute impact, so you can avoid injuries to the feet.
Sole 
Find out what materials are used for the sole. Rubber materials provide the most traction but also check the pattern as this will tell you whether the shoes will have a better grip on the floor.
Price 
You get what you pay for when it comes to the best adidas basketball shoes. The more you pay for a pair, the higher the quality will be. So if you are looking for longevity, be prepared to shell out a few more dollars just to get the best adidas basketball shoes with the quality you are looking for.
Frequently Asked Questions About Buying the Best Basketball Shoes 
You can also learn more buying tips by identifying the answers to the following frequently asked questions:
Should You Buy Basketball Shoes Big?
It's important to buy the right size, no matter what kind of footwear you are buying. When buying, check to see if your toes have a lot of room to move around. Otherwise, your circulation will be cut off and you will end up with blisters.  You can size up if you have wider feet or if the shoes are not true to size. The best way to know is by trying the shoes on.
Is It OK to Wear Basketball Shoes Casually? 
These days, basketball shoes are a popular casual footwear. They are worn not just by basketball players but also by people who want to look stylish or by those who want to emulate their basketball idols. You can wear them casually, just make sure that you look for a comfortable pair.
Will Wearing Basketball Shoes Outside Ruin Them?
If you are wearing the shoes casually, that should be okay. However, if you are also using the basketball shoes as your main shoes for playing, it's better to just use them indoors. If you use them outside, the soles can wear out and can lose traction.
What's Next?
Be sure to read our guide on the best basketball shoes out there. Use our reviews and buying guides to make a better decision on which pairs to buy.