Do you want the best basketball shoes but you are strapped for cash? You came to the right place. There are still a lot of good basketball shoes out there that will not break the bank.
Our guide will tell you where to find the best cheap basketball shoes that do not compromise on quality and performance. We made sure our suggestions are the best and only from trust-worthy brands because although you are looking for cheap basketball shoes, you are also looking for the best features.
Comparison Chart for the Best Cheap Basketball Shoes 
Best Cheap Basketball Shoes Reviews Reviews
"When you need to be on your feet all day, go for these shoes that deliver the best comfort."
You know how some shoes feel comfortable at first but after some time, they can start cutting off circulation? That's not going to happen with the Jet 2017. What we love about this is its superior comfort brought about by cushioning features in all layers and areas. The midsole, for instance, has a compression molded EVA, to make the shoes more responsive. Incorporated in the underfoot is a die-cute EVA sockliner, so you can stay on your feet all day minus the plantar fasciitis.
Pros:
We think these are the best cheap basketball shoes out there because of the comfort. You can literally use these as work shoes and be on your feet all day but without suffering from fatigue. If you also plan on using the best cheap basketball shoes for work or pair it up with your everyday garb, these shoes are a great option.
We like the addition of the leather material to the textile one. It has managed to achieve a good balance between support and breathability. The leather material keeps the upper portion of the shoes stable while the textile material disperses heat. We like that these shoes prevent the feet from stinking.
"It looks more expensive than it really is."
Aside from the comfort of the midsole and underfoot, the ankles also stay protected. You won't get blisters from playing basketball wearing these best cheap basketball shoes.
The rubber outside feature a herringbone pattern. We think these are the best basketball shoes if you want the best traction or grip. You can play on slippery courts without worrying about injuring your feet and ankles.
It's easy to wear. You can dress it up or dress it down. They don't require breaking in. Even right out of the box, these best cheap basketball shoes already feel comfortable.
Cons:
These shoes aren't for people with wide toes. If you are going to buy, make sure you buy a size bigger to make room for your toes.
It's probably not the best for rough usage. If you intend to use it every day for aggressive basketball playing, you might find that it doesn't hold up well. But as an everyday pair of shoes, these should still last you for quite some time.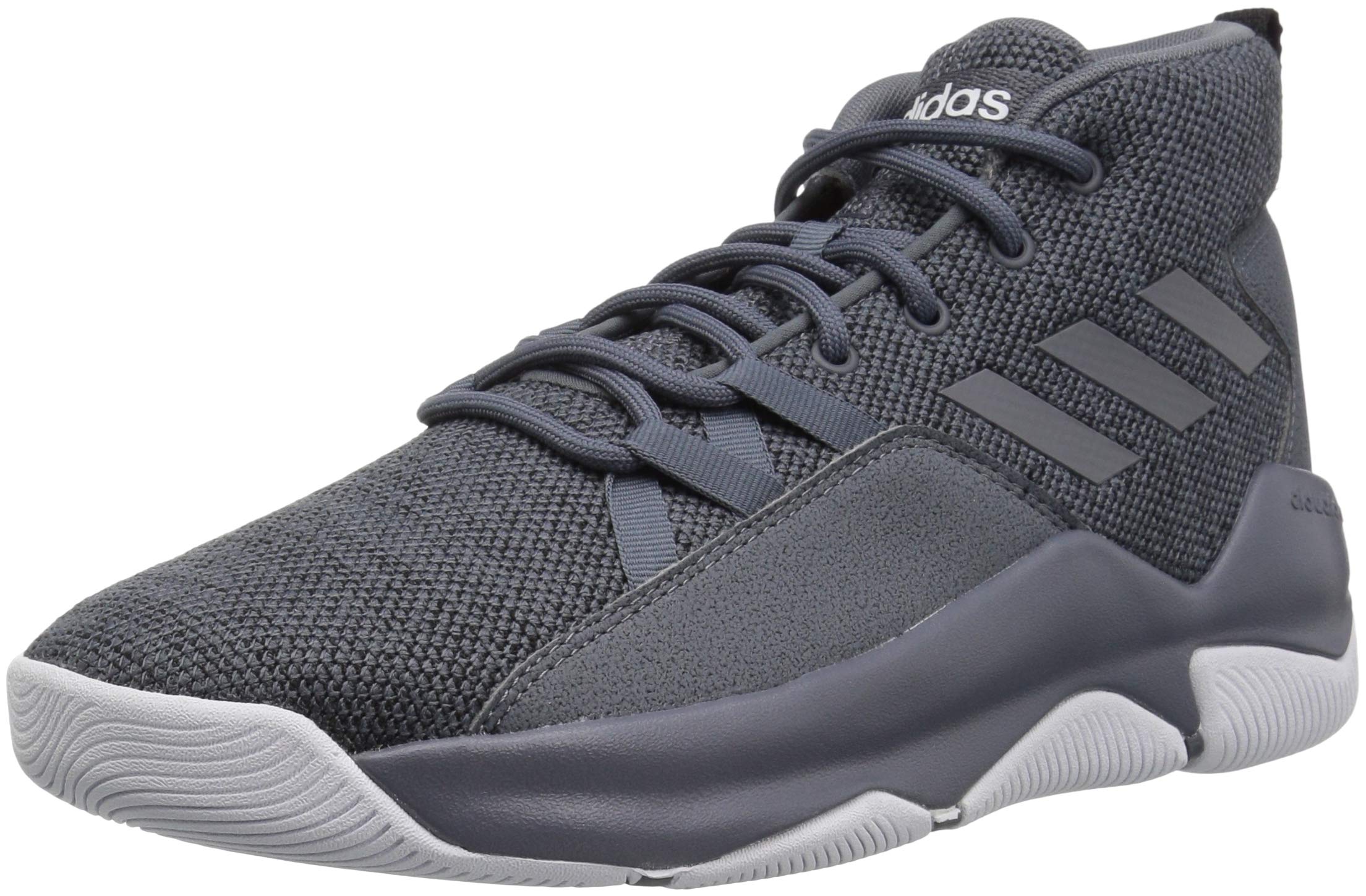 "These shoes have a wide toebox that won't hurt your toes if you have wide feet."
These are the best cheap basketball shoes for people who have wide feet. As you know, it's hard to find shoes for people with wide feet. You might be able to find shoes that are wide enough for your toes but can be too loose around the ankles. These ones from Adidas have the perfect fit though. They are cheap and they deliver quality a lot.
Pros:
Adidas is known for their Cloudfoam midsole and you can find that in these best cheap basketball shoes. That means you can get the best comfort experience with these shoes, even if you wear them all day. You can wear these best cheap basketball shoes all day without suffering from foot fatigue. These do not cut off the circulation at the toe area.
We like the knit textile upper. It gives the shoes a more casual feel to it, which makes these shoes great for casual dressing. These are great when worn with shorts or jeans. The color options are also not tacky.
"The Adiwear outsole holds up well against rough usage."
You can use these to play basketball all the time and not worry that they will rip easily. Adidas made sure that it can withstand a lot of rough playing with its Adiwear outsole. It's one of the most durable materials out there. These best cheap basketball shoes are so durable, you can use them for outdoor playing. These shoes can also accommodate heavier people.
The grip is impressive. The soles hold on to surfaces well, giving you more stability while playing on slippery courts. The ankle support is also good considering it's not a hi-top kind of shoes.
Cons:
Because these shoes are intended for people with wide feet, if you have narrow feet, you will find them too big. Sizing down is recommended, so your feet can fit better in these best cheap basketball shoes.
They can feel a bit bulky. If you have thin legs, the proportion might look a little off. These have been likened to clown shoes, so if you prefer something that has a more streamlined and a slimmer look, get something else.
"These shoes are a sterling choice for avid or professional basketball players because of their excellent ankle support."
These are the best cheap basketball shoes we recommend for those who play a lot of ball. We like these because of their superior ankle support, great for players who don't want to risk ankle injuries. They provide a good lockdown to the entire foot all the way to the ankles, so you can pivot and turn without slipping.
Pros:
These shoes boast of a simple but effective hi-top design that provides top-notch support to anyone who needs more protection from ankle injuries. You will find that these shoes offer a lot of stability no matter what the court surface is.
These are the best cheap basketball shoes because of their excellent responsiveness. The inside features Phylon foam that cushions the feet but without being too soft. The previous model from Adidas can be too soft for basketball usage, so if you are looking for something a bit more responsive, this should be a better choice.
The mesh upper is lightweight. It makes jumping easier because these shoes will not drag you down. This material is also breathable and lightweight, so you can wear these for hours and not feel like your feet are constricted or overheated.
"The multidirectional herringbone pattern of the sole of these shoes are two-layered."
What gives these shoes such an excellent traction is the secondary pattern that sits right underneath the primary one. As a result, you get a cross-hatch design that maintains the stability of the shoes even when used on slippery surfaces.
Cons:
The shoelaces are not up to par compared to the rest of the shoes. We felt like they could use some improvement. You can also get a better pair of shoelaces for better lockdown.
These shoes can be a bit narrow. If you have wide feet, you might find them too narrow for you and might require you to size up to get a better fit.
Conclusion 
These best cheap basketball shoes are all worth buying. They have different strengths and weaknesses that are worth taking into consideration, so you can decide better which of these will work better for your needs.
We highly recommend the Nike Men's Air Precision High-Top Basketball Shoe for avid basketball players who need more support around the ankles and who can rely on their shoes for excellent traction. These shoes won't disappoint when it comes to comfort as well.
People with wide feet can stop their search for the best cheap basketball shoes already because the Adidas Men's Streetfire Basketball Shoe is the best choice. These shoes do not constrict the toe area with their wider toebox, making way for excellent comfort and good breathability.
If you are after comfort, go for the Under Armour UA Jet 2017. It pays a lot of attention to the areas of the feet that tend to get blisters, which is why you can use these shoes all day without feeling tired.
How to Find the Best Cheap Basketball Shoes
You might not be spending hundreds on a pair of basketball shoes but this doesn't mean you should just buy without thinking more about your options. Here are some of the things you keep in mind when buying:
Fit
We think this is the most important factor to consider. If it doesn't fit you well, it will be hard to wear it without suffering from aches and pains. Don't just think about size, also think about the shape of the shoes. You might be getting your usual size but if it has a narrow toebox, it might be too constricting. You should also check the measurements of the toebox to get a better fit.
"Ill-fitting shoes can lead to a plethora of problems including calluses and blisters (1)."
Cushion 
Even the best cheap basketball shoes have good cushion technology. These should be integrated in the right places such as the insoles and the ankle area. How soft the cushion should be depends on your needs. If you want to wear the shoes all day for walking, something softer would be a better choice. However, if you want shoes that are more responsive, a mid-level cushioning comfort is more effective.
Sole Traction
The traction design plays a big role when it comes to the stability of the shoes. It is important to know what the traction design is, so you can gauge whether it will be better on slippery basketball courts or if it is more fitting for outdoor playing.
Frequently Asked Questions About the Best Cheap Basketball Shoes
To learn more about basketball shoes, here are some frequently asked questions you should know the answer to:
How Often Should You Change Basketball Shoes? 
If a runner has to replace shoes every 300 to 500 miles that he/she covers, basketball players should also do the same. If you run an average of 20 miles every week and your basketball playing is equivalent to that mileage, consider replacing your basketball shoes every 4 months or so.
Do Basketball Shoes Affect Performance? 
Yes, basketball shoes can affect performance. If you are wearing the best cheap basketball shoes that have lightweight materials, your performance can improve by 2.1%. as it is easier to sprint or jump when wearing lighter shoes. Good basketball shoes also improve your gait, stability and flexibility, which can improve overall basketball performance.
Is it OK to Run in Basketball Shoes? 
While basketball shoes can support your feet when you run and walk all over the court, they are not really great for extended running. If you use them to substitute your running shoes, they might not provide you with the protection and support that your feet need when traversing various terrains. Many of the best cheap basketball shoes also have traction only fitting for court and pavement but not mean for traversing grass or uneven terrain. That said, they might not provide you with the protection you need for running.
Can You Wear Basketball Shoes Everyday?
Many of the best cheap basketball shoes out there have a designed great for everyday wear. While they might not be the best for runners, they can still be worn as everyday shoes. Some are comfortable enough to be worn as work shoes and have excellent cushioning that can keep the feet comfortable all day.
What's Next?
Don't forget to check out our complete reviews of the best basketball shoes. Let our reviews help you decide which shoes are the perfect options for your needs.