Basketball players are susceptible to plantar fasciitis, a condition where the band of tissues that are located from the bottom of the feet to the heel bones suffer from inflammation.
Many basketball players describe plantar fasciitis as experiencing needle-like pain under the foot. And you can just imagine how painful that is when you still have to do a lot of running, twisting and jumping.
But one way to alleviate that or to minimize its occurrence is with the help of a pair of supportive basketball shoes. We found the best ones suitable for the needs of players with plantar fasciitis and you can find our suggestions below.
Best Basketball Shoes for Plantar Fasciitis 2019 Reviews
These shoes are better for you if you have plantar fasciitis:
Product
Details

#1 Nike Men's Lebron Witness II Basketball Shoe

Excellent Comfort

Star Rating: 4.4
Material: Synthetic
Price: $$

Check Price

#2 Under Armour Men's Curry 5 Basketball Shoe

Incredibly Lightweight

Star Rating: 4.1
Material: Textile & Synthetic
Price: $$

Check Price

#3 Adidas Men's Harden Vol 2 Basketball Shoe

Great Cushioning

Star Rating: 4.3
Material: Mesh
Price: $$

Check Price

#4 Nike Men's KD Trey 5 V Basketball Shoe

Topnotch Confinement

Star Rating:4.3
Material: Synthetic
Price: $$$

Check Price

#5 Adidas Performance Men's D Rose 7 Primeknit Basketball Shoe

No Break-in Required

Star Rating: 4.1
Material: Synthtic/Textile
Price: $$

Check Price
Let's take a more in-depth look to what these shoes can offer:
1. Under Armour Men's Curry 5 Basketball Shoe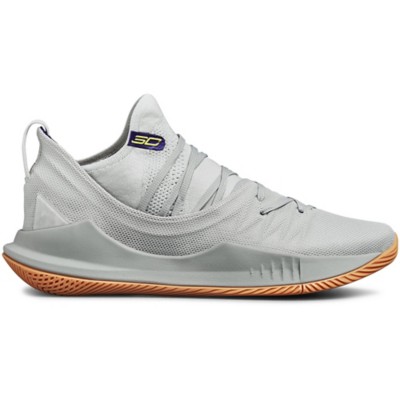 Being the latest in Stephen Curry's footwear line from Under Armour, this has all the features and the updates that are lacking in the previous models. As a result, it offers the most lightweight features, the best fit and the most excellent support. What makes this better for people with plantar fasciitis is its lightweight materials. Not only does it reduces drag and prevents your feet from being strained, it also helps enhance your agility.
The Anafoam layer contains the forefoot area and provides heel support like no other. There are no extra movements that can put a strain on the heels. To further provide support to the feet, it has EVA cushioning midsole that also enhances the responsiveness of the underfoot.
Pros:
Incredibly lightweight, this shoe alleviates strain on your feet. It is also lightweight enough to allow you to gain speed and to be as agile as you can on the court.
The lacing has an excellent lockdown. What is great about this is that it has a consistent lockdown, comfort and support all around the shoes. You can get 360 degrees comfort with this one.
It protects the heel from pain, thanks to the EVA cushioning and the Anafoam containment zones.
This shoe has a grippy sole. It is capable of making abrupt stops. It also produces satisfying squeaks that let you know the traction is working.
It is also one of the most stylish shoes out there. It has an expensive look and feel to it. Everything about this looks well-made. It is also stylish enough to be worn with non-basketball attire. The colors are simple, but the style still stands out.
Cons:
There were those who said this requires breaking in.
2. Nike Men's Lebron Witness II Basketball Shoe
Sold at a more accessible price, this shoe is perfect for those who are on a budget. A recent model only released in 2017, this affordable choice has similar features to that of its predecessors. It features a full-length Phylon that provides excellent forefoot support so you can make intricate footwork without putting a toll on your feet. Wearing this practically liberates your plantar fasciitis-stricken feet.
With a breathable upper material, it has a more lightweight design that makes it easier to use even on extended periods of time. You can also expect durability from it, thanks to the fuse overlays that ensure it can accommodate even the most demanding basketball needs. Integrated in it are Zoom pads that enhance its responsiveness and promotes stability.
Pros:
The traction of the Lebron Witness II is one of the best. It has a good floor grip, thanks to the diamond pattern on the soles. In fact, it can be used outdoors as well. With its excellent traction, it prevents slipping that can exacerbate the symptoms of plantar fasciitis.
It has good breathability. The textile upper has good ventilation that prevents heat from building up in the shoe. This can be a good shoe to wear even in the summer when the temperatures get hot.
It is stylish enough for casual wear. You can wear it with regular clothes.
It has excellent comfort. It provides cushiony support to the crucial areas of the feet, decreasing the likelihood of pain. Many also said it is comfortable enough that it doesn't need breaking in.
It has a good price tag.
The lockdown is also good. It doesn't feel like it is going to slip off.
The mid-top design makes this easier to put on compared to the high top designs. It still has good ankle support even despite being lower.
Cons:
There were those who found this shoe to be too narrow.
3. Adidas Men's Harden Vol 2 Basketball Shoe
Created specifically for basketball players like James Harden who need responsive shoes for those lightning-quick movements, this shoe is one of the best when it comes to doing defensive work.  Its ForgeFiber upper ensures the best footdown and containment, ideal in preventing excessive movements that can trigger pain.
The Boost feature that is a key component of most Adidas shoes does not disappoint. It provides containment even for the lateral side of the shoes while ensuring the plushiest comfort. Its traction is also top-notch as it extends even on the heel counter.
Pros:
Although it is a supportive shoe, it actually gives enough flexibility, so that the feet won't feel constricted. The neoprene upper material has enough give to it to allow more room for a sudden burst of movements.
The cushioning set-up is also one of the best, according to many users. The Boost foam does its work in providing cushioning comfort to the feet as well as help disperse impact. It is particularly very supportive to the midsole. Many customers said they did not have issues with joint pain after using this. It can be a great shoe to wear for people with plantar fasciitis.
The forefoot features a firmer cushion insole. It provides better support.
It as excellent durability as well. The ForgeFiber technology ensures that it will not tear or wear out easily. There were those who said they used it for months and still did not see signs of wear and tear.
The lacing system is easy to adjust. It also provides a good lockdown and fit.
Cons:
The heel cup can be a little off-putting to some people.
4. Nike Men's KD Trey 5 Basketball Shoe
Built with reliability and durability in mind, the KD Trey 5 can be relied on to prevent mishaps in court. The fuse overlays and the mesh upper all work together to provide top-notch confinement. It also features a Zoom technology for its midsoles and Phylon technology to provide excellent support during crunch time. Phylon is Nike's EVA foam technology, which cushions the feet and keeps fatigue at bay.
The traction boasts of a herringbone pattern for reliable traction and floor grip and has lateral side laces to provide the lockdown most people are looking for.
Pros:
Many people commented on its stability, which can benefit people who have foot issues.
It has been getting a lot of positive attention because of its breathable upper. It keeps air flowing inside to prevent discomforts.
The laces are thick enough and encompassed the lateral side, so the footdown is one of the best that you might experience.
It doesn't just prevent plantar fasciitis, it also prevents ankle injuries. The outrigger is sturdy and helps in keeping the ankles stable.
This might be a good choice for guards, thanks to its Zoom and Phylon technologies.
Cons:
Some people said they don't like the length of the shoes. There are also those who said it required more time for breaking in.
5. Adidas Performance Men's D Rose 7 Primeknit Basketball Shoe
Equipped with Primeknit upper material, this offers the best fit. The upper material also has flexibility and breathability that many basketball players look for. We like how the molded collar fits the ankles effectively, thereby providing the best support. It also accommodates an ankle brace if you have a need for one.
These shoes are striking and stylish. The distinct detailing and color options make it a winning choice for those looking for a shoe that they can wear every day. It also offers better stability because of its TPU heel.
Pros:
Many people like how comfortable it is straight out of the box. It did not require a lot of breaking in.
The traction is just as good as the others. It performs well even on dusty courts.
The primeknit upper has a plush comfort to it. It also looks well-made and expensive.
It keeps the shoes stable and prevents unnecessary slippage. The TPU material at the heel counter helps in providing excellent stability.
It features Boost technology, an excellent cushiony feature that is unique to Adidas.
It has an excellent fit. Many people did not have issues with how it fits them.
There were those who said it also helped alleviate their knee pain. There were also users who tried it after having Achilles tendon surgery and said this is one of the most comfortable shoes they have tried.
Cons:
There were those who said this did not have the same level of traction as the regular ones from the Derrick Rose line.
Which Basketball Shoes for Plantar Fasciitis is the Best?
Lightweight Option: Under Armour Men's Curry 5 Basketball Shoe. We think this is a great choice in preventing plantar fasciitis pain because it is easy to wear and has a weight that doesn't drag the feet down. As a result, it is easier to run and jump when using this one. The cushioning system can be felt in all the areas of the feet, so there are no spots that don't get the comfort they need.
Excellent Traction: Nike Men's Lebron Witness II Basketball Shoe. You can't top the traction that this offers. You can use it on a dusty court or outdoors without worrying about slipping. It is good for people with plantar fasciitis because it has good surround padding and excellent comfort. Best of all, it is not as expensive as the other options, great for those who don't want something too pricey.
Bouncy Cushion: Adidas Men's Harden Vol 2 Basketball Shoe. Adidas' Bouncy cushion technology has yet to lose its impressive comfort. With this one, you can still get that same level of comfort, which can help in alleviating the symptoms of plantar fasciitis. All ideal features like excellent comfort and traction are also in place.
Best Lockdown: Nike Men's KD Trey 5 Basketball Shoe. When it comes to lockdown, you can't find any fault with this one. A good lockdown is important in preventing plantar fasciitis as it helps keep the feet stable and reduces unnecessary movement. Because it keeps the feet in place, it reduces strain to the feet.
Great Fit: Adidas Performance Men's D Rose 7 Primeknit Basketball Shoe. Most of the people who bought this shoe said they liked how well it fits. They did not have issues with the shoes being too constricting. It also has excellent heel and ankle support that even those with existing injuries did not experience pain while wearing this.
Our favorite among these options? It's the Under Armour Men's Curry 5 Basketball Shoe. While all of the shoes we recommend above are great, this one just fits the bill when it comes to the best basketball shoes for plantar fasciitis. The shoe has the technology that addresses the common concerns of people with this condition. From its excellent lockdown to its lightweight materials, it is a tough choice to beat.
Conclusion
Need more help finding the best basketball shoes? After identifying what you want in a pair, check out our various reviews and see all the best basketball shoes. Take a look at our suggestions, to be assured that what you are buying is really the best.