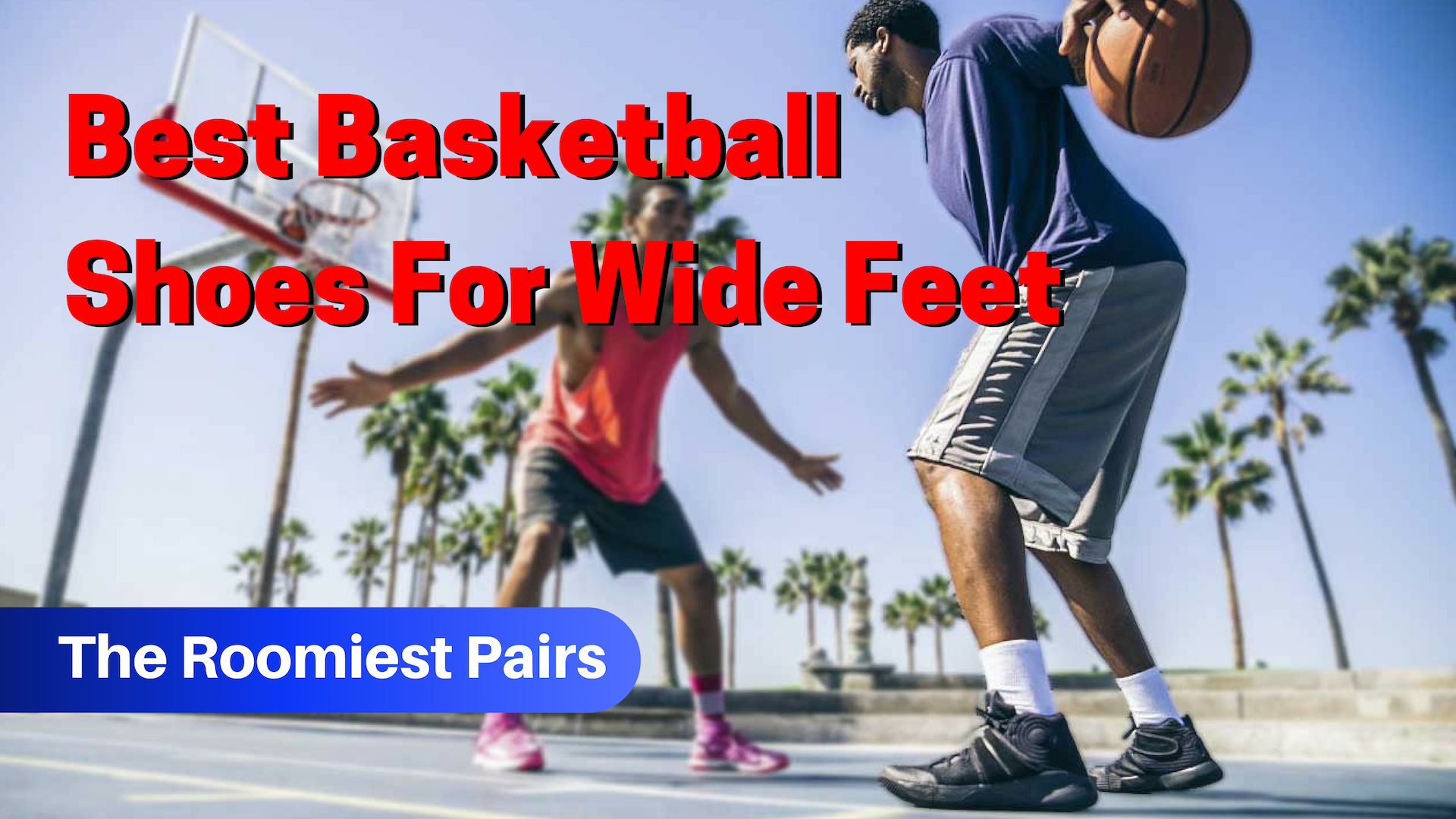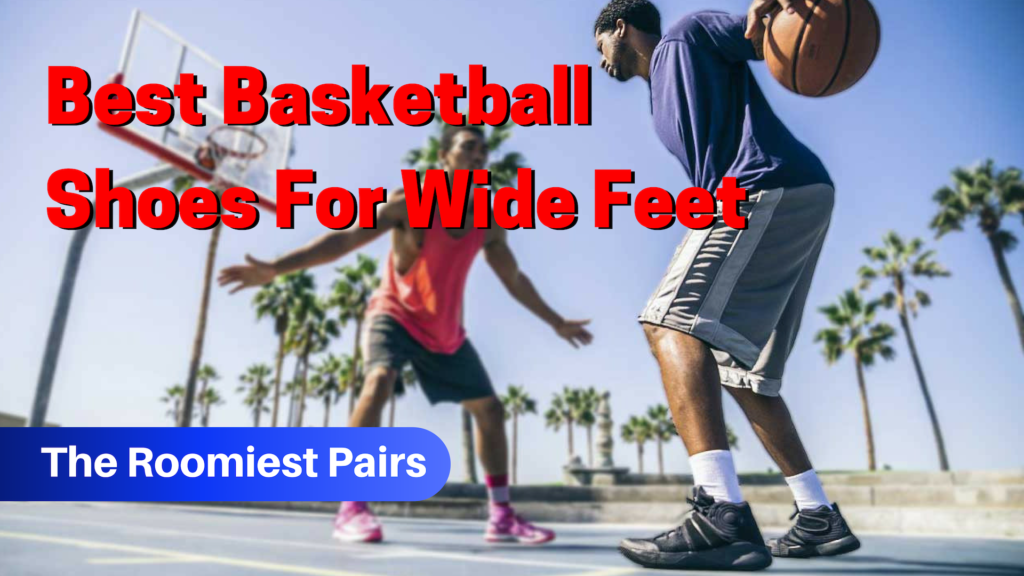 Quite a number of basketball shoes out there are narrow around the toe area. So, while they may have excellent cushion and support, they might not have the best comfort because the toe area gets squished. If you have wide feet, you should be more meticulous in finding a good pair of basketball shoes. But we made the work easier for you by checking out the best basketball shoes out there good for wide feet. Find out which of the shoes out there we recommend getting.
Best Basketball Shoes for Wide Feet Reviews 2019
These shoes have a wider toe area:
Find out more about what these products can offer:
1. Nike Men's Air Visi Pro Vi Basketball Shoes
Beloved by many basketball players that have wider feet, the Air Visi Pro Vi just brings comfort to the table. These high performance shoes have a collar with asymmetrical foam for a more relaxing and more supportive fit. Your ankles get the support they need when doing those difficult maneuvers. Aside from a roomy interior, it also features heels that have air units in order to absorb most of the impact of the shoes. There are also perforations to the shoes that allow air to flow easily for better breathability.
The upper material is leather while the lining is composed of mesh material. It has a sturdy rubber outsole with excellent traction on a wide range of surfaces, but especially basketball courts.
The design should match perfectly with the best basketball shorts.
Pros:
You will be hard-pressed to find something as durable and well-constructed at this price point. Many of those who used this said it stood up against abuse. Even when used daily, it still remained intact.
They retain their structural integrity. There are those shoes that are sturdy but tend to lose their shape overtime. This one, however, still maintains the structure of the sides even with regular use.
It is comfortable. The inside is completely padded, so you know your feet can get utmost comfort. You can use this for hours and not feel tired.
They are lightweight, so they don't impede your performance and speed.
The design is great. We like how stylish they are and how they can also be worn with regular clothes.
There weren't a lot of issues when it comes to the fit, which is a testament to how well this caters to a lot of different feet sizes.
It is not as expensive as the others. This is definitely more on the mid-range price, great for people who are on a budget.
Cons:
Some said they wished it has better ventilation. Due to the leather upper material, it might not be as breathable as other materials.
2. Under Armour Men's Curry 3 Basketball Shoes
The Curry 3 is obviously better than its predecessor in many ways including how it addresses the concerns about the toe area being too narrow. This one though, many people find it just right for their wide feet. But aside from that, the Curry 3 also gives never-ending benefits including its Infinite Support Total Control feature that allows you to get maximum control over your shoes. That gives you more power, so you can challenge yourself to do better.
It has Threadborne upper material is a clever design as it provides directional strength in order to support the needs of players out there. Get superior comfort in your arches, heels and forefoot through its meta-wing carbon fiber shank material that keeps these areas stabilized no matter how much you move.
Pros:
This isn't just a stylish shoe, it is also one of the best because of its numerous features. It provides the most stable lock-down, thanks to its fiber shank material.
It is lightweight. The innovative upper material maintains support but also ensures it doesn't weigh the feet down.
What sets this apart from the others is its ability to deliver custom comfort and support. It has Anafoam that creates a map of your feet and conforms to your feet for more effective support.
Swift changes of direction can happen, thanks to its Charged Cushioning feature. It helps in facilitating faster motions.
The grip of this shoe is also excellent. It has a herringbone traction pattern that works in enhancing the stability of the rubber soles. It prevents slipping and helps this shoe work on different surfaces.
It has excellent cushioning. Aside from its ability to provide comfort, it also helps in absorbing impact. That is then converted into energy, so you can make sudden direction changes with ease.
It has a sturdy build. Everything about this shoe feels and looks premium.
These shoes have excellent ankle support as well. It helps reduce the risks of injuries.
Cons:
Some said it tends to look big on the feet.
3. Nike Men's Air Versatile II Basketball Shoe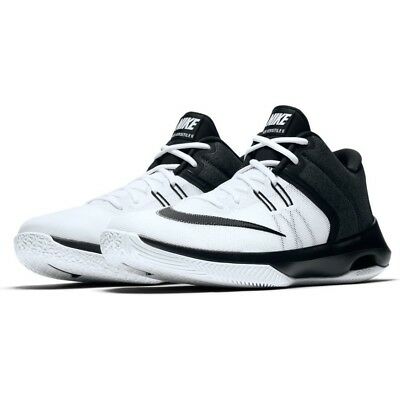 We're certain you know how important it is to find a basketball shoe that makes way for better impact absorption. It reduces the strain the sport inflicts to your feet but without affecting your performance. That is what you can get with this shoe. Its Air midsole feature ensures that the energy is absorbed and then converted to provide you with extra energy. The padded color keeps your ankle protected from all sorts of injuries.
The upper part is made from a combination of synthetic and mesh material. Since it has a mesh material, it has better ventilation. The cushioned insole also adequately provides the comfort that people need in order to last long when playing basketball or when practicing for a game.
Pros:
These shoes are so comfortable, people who used them were able to wear them for hours without suffering from strain or fatigue.
It has a good ability to absorb impact.
The design is also nice. It doesn't look too large on the feet, so it can be used as an everyday shoe as well.
These shoes actually have a good build. Many people said it was used ruggedly for months and yet it doesn't easily show signs of wear.
These shoes are lightweight, but they are sturdy. You won't have problems playing for hours with this in tow.
Many people found these shoes quite comfortable. There were also no issues about it being too narrow.
Cons:
These are not waterproof, so be sure to avoid puddles or your feet will be soaked.
4. Adidas Originals Men's Pro Bounce 2018 Basketball Shoe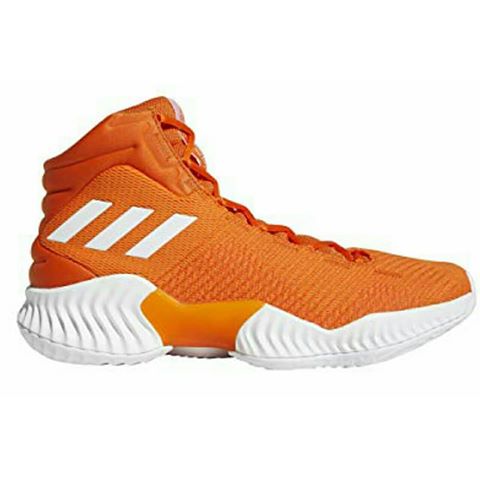 The Pro Bounce will really make you perform like a pro. There aren't a lot of negative reviews about its fit. Most people find the fit just right for them and there are no issues about it being too narrow. This shoe features Adidas' signature bounce cushion, which helps promote excellent comfort while maintaining reliability. It also offers midfoot stability through its thermo polyurethane material.
The soles feature a traction pattern similar to that of a Tetris pattern. This is why it works great when it comes to gripping floor surfaces and preventing slippage.
Pros:
It can last for a long time because of its excellent material. The textile upper has Forgefiber and Geofit technologies that make sure the fibers are coated to prevent fraying. It also ensures that the foot will not slip from its footbed when you are playing. It also features pockets that is comparable to cloud pockets.
It has a nice style for a high top basketball shoe. It can even be used outside the court.
It keeps the feet stable and prevents ankle injuries.
These have a great lockdown, so you can change positions without worrying that it will loosen up.
These shoes are quite responsive.
Cons:
There is a user who said his Achilles' tendon acted up after using this.
Which Basketball Shoes for Wide Feet Should You Choose?
Now, which of these shoes will work better for you?
Best Durability: Nike Men's Air Visi Pro Vi Basketball Shoes. These shoes are not just great for people with wider feet, they are also great for those who wear out their shoes a lot. It is very durable and stands up against a high level of abuse. If you want your shoes to last for a long time, this will definitely serve you well.
Best Support: Under Armour Men's Curry 3 Basketball Shoes. It is hard to find a more supportive pair of basketball shoes. This one has excellent feet support in all areas, which is why it can protect you from injuries. It also increases performance as it converts impact into energy, thereby enhancing the way you change speed and direction.
Impact-Resistant Features: Nike Men's Air Versatile II Basketball Shoe. One of the best when it comes to providing comfort to people with wide feet is this one. It has a nice cushioning layer that absorbs impact and then converts it into energy. This shoe also has a good construction and build that makes this a great choice for people looking for something a lot more durable. The price is also quite affordable, so you won't be disappointed with it.
Excellent Bounce: Adidas Originals Men's Pro Bounce 2018 Basketball Shoe. This shoe has perfected the bounce technology. It gives your feet the comfort and support they need without compromising on the support. You can still rely on this for many more practices and games because of its sturdy build.
Factors to Consider When Choosing Basketball Shoes for Wide Feet
If you want more help finding the right pair of basketball shoes, here are the factors you need to keep in mind:
Shape. One way to tell if a shoe is good for your wide feet is to check its shape. If it has a narrower front, chances are, it is not ideal for your feet. You would want to check the size or dimensions to make sure that the shoes you are buying will provide the best fit.
Inner Padding. It helps to find out how thick its inner padding is. That way, you can tell if it is going to be constricting near the toes, which might give your wide feet a problem later on. Also make sure the padding is substantial enough to provide your feet with the comfort they need. That way, you can play for hours minus the blisters and the feet strain.
Ankle Support. This is another important factor to consider. Basketball players tend to be susceptible to ankle injuries due to the nature of the sport. It should have a padded collar in order to support the ankles when you are making sharp and sudden movements.
Ventilation. Find out what materials were used in its upper. If it is a material like leather, it might not have a good ventilation as this material does not have natural breathable properties. One with a mesh upper might be better when it comes to ventilation because the material allows air to circulate and pass through better.
Durability. What sort of materials were used in its upper and soles? Two-sided reinforced materials might be found in high-wear areas in order to make the shoes last longer. Also look for those with solid toe cap that can protest your toes from damages as well as give you enough stability while playing.
Price. Compare prices. Just because it is more expensive does not mean it can provide your wide feet with the comfort they need. It still boils down to personal preferences. Make sure you choose those that have a good price range but still capable of providing you excellent features, so you can make the most out of your purchase.
These are the factors you need to consider if you want the best basketball shoes for wide feet.
Conclusion
We can help you further in finding the best shoes for basketball. Do check out our suggestions and product reviews in our homepage and be sure to read our complete guide to the best basketball shoes to be guided on which products to buy that will work for your specific preferences.