Is Nike your preferred basketball shoe brand? You're not alone. Countless of basketball enthusiasts prefer Nike because of their high-performing, stylish and supportive basketball shoes. There's a reason why the likes of basketball legend Michael Jordan and Lebron James signed up to promote the brand.
Nike regularly releases basketball shoes, so you should never run out of choices. The hard part is choosing which one works better for you. Check out our suggestions, which we think are the best because they have most of the things that athletes look for in a pair of basketball shoes.
Comparison Chart for Nike Basketball Shoes 
 Best Nike Basketball Shoes Reviews Reviews
"These are affordable but capable basketball shoes that are suitable for people who prefer lightweight materials for excellent comfort and performance."
These shoes feature an amalgamation of synthetic and natural materials to provide both affordability and comfort. We recommend this to anyone looking for the best comfort in basketball shoes. It has excellent cushioning and mid-top design that provides the ankle support you need. With a herringbone pattern on its solid rubber soles, this will guarantee efficient burst movements and excellent flexibility even on slippery courts.
Pros:
These shoes are truly comfortable. Unlike others where you feel a pinch after wearing and using them for hours, this did not have such a problem. Even with a lot of jumping and switching of movements, the Tri-vis Air sole found at the heel part distributed impact quite effectively.
We experienced no problems slipping in and out of the shoes. The asymmetrical foam collar allows for seamless wearing of the shoes but without sacrificing on comfort and fit.
It is quite the breathable footwear. Hours of wearing it and your feet still feel comfortable. It's a great shoe option for the summer season.
"There are perforations found in the shoe's forefoot, which improve its breathability."
It does withstand a good amount of abuse. Even with aggressive use, it still maintains its form.
The lock in is good. You lace it up but it stays laced. And because of the higher top, it's unlike to come off even when running.
We do like its classic design. It's not very flashy that you can only use it for basketball purposes. It's still stylish enough to be worn for everyday shoes.
Cons:
The foot bed support could use some improvement. There's also one design flaw that has to be worked on: the air bladder. It tends to leak air and as a result emits an annoying hissing sound when walking.
The base material is a little difficult to maintain. It's the kind of material that is a magnet for dirt, so you do need to spend some time wiping the base to keep it looking clean.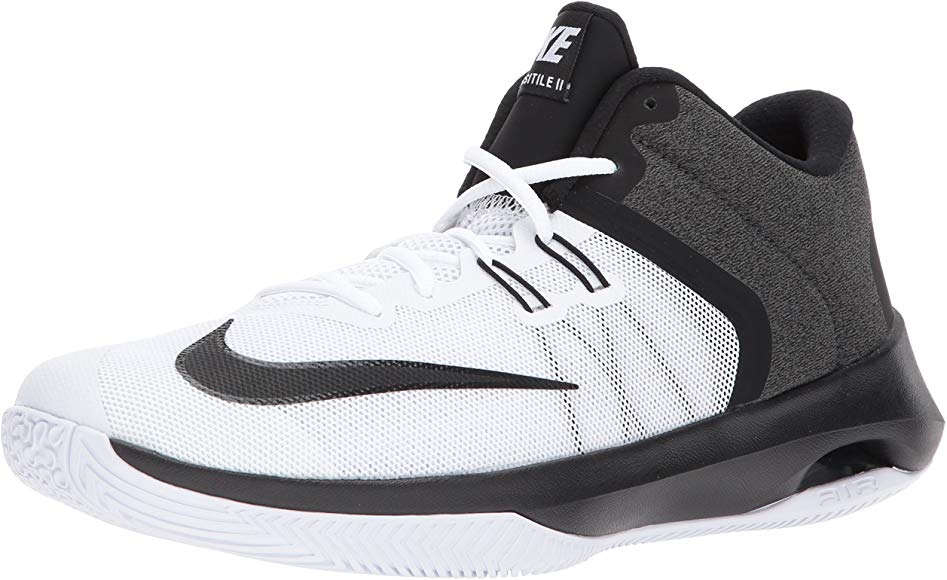 "You can walk and run for hours with these shoes on, so comfortable the insole is."
We recommend this to anyone who trains for hours or who needs a pair of basketball shoes that will not feel constricting right away. The Versatile II is a mid-top shoe with lace-up feature. There is a deliberate emphasis on the sole comfort of these shoes. The heel features air sole pockets that distribute impact, so that you can land in the most comfortable way possible. It's just right up most people's alley when it comes to style. The three-color style, premium mesh upper mixed with woven fabric and overlays crafted from synthetic material give this an excellent look that can transcend trends.
Pros:
Even if we are not basketball players, we will still buy this just because it looks nice. It has a versatile design that makes this easier to pair up with regular clothes. It's not as loud as other basketball shoes and there are also some nice color options for those who don't want the black ones.
These shoes are comfortable and light. We find that they can be worn for hours without cutting off circulation. These are also great for performance because they don't tire your feet out easily. We figured it's not just the cushion but also the lightweight properties of the materials used. They don't weigh down the feet so much.
You can use these on court without the annoying squeaks. But although they don't produce a loud squeak, they still offer a good traction.
The ankle support is fairly good for a mid-top. Even when you play on concrete, they still offer good ankle support.
"These shoes feature a Phylon midsole that provides protection against impact and shock, hence their ability to protect the feet even when playing on harder surfaces."
Cons:
One of the issues we see with this is its lack of ventilation. It's not so bad but can be noticeable during warmer days.
These shoes might not be ideal for people looking for a wider toebox. That part is a little narrow, which can be constricting if you have bigger toes. They also run a bit small, so if you are buying, you might want to size up.
"This is what we recommend to people looking for the best ankle and foot support."
Out of our recommendations, this is the best Nike basketball shoes to get if you are looking for more support. These are laceless shoes that feature a lightweight mesh upper for better performance. Incorporated with Zoom air cushioning, these shoes support the feet and distribute your weight upon impact for a more effective way of deflecting injuries.
Pros:
These shoes are the high-top kind, so you get more ankle support if you use them. The top keeps the ankles stable when performing high-intensity activities. We like that they also reduce the chances of sustaining foot and ankle injuries.
The hook-and-loop straps take some time getting used to, but we find that these shoes have a good lockdown. Once you get used to sliding your foot in, you will start to like how convenient it is to not have to deal with laces anymore.
These are lightweight shoes. The mesh upper has a solid feel to it but without weighing down the entire shoes. The soles also do not drag, so we recommend these shoes for those people who don't want their speed and agility compromised.
Unlike other basketball shoes out there, these are surprisingly compact. They don't feel too bulky and you won't feel like Ronald McDonald when wearing them. Despite that, these shoes do offer a lot of room inside. They are not constricting despite them not being too bulky.
"These shoes feature a multi-traction sole."
With their multi-traction sole, you can use them on any surface. In fact, these are versatile enough to be used for sports other than basketball.
Cons:
These shoes aren't that flexible when it comes to design. They're really more like basketball shoes, so they might be hard to wear with everyday clothes. You do have a lot of color options to choose from, so if you prefer a bolder style, this would work for you.
The price tag for these shoes is higher than the previous models. If you are looking for more affordable Nike basketball shoes, these shoes might not be for you.
Wearing these shoes can be challenging at first because of the laceless design. You fit it like you would a pair of gloves, so sliding your feet in might not be easy all the time. But once you break it in, that shouldn't be a problem anymore.
Conclusion 
Which one you should choose really depends on what your specific needs are. These are all equally great but they might cater to specific people.
The Nike Lebron Soldier XI is more for serious basketball players. If you play on a daily basis and you play virtually anywhere, you would want a more reliable pair of shoes that can provide excellent ankle support and good impact distribution the Lebron Soldier XI can offer these features for you.
Get the Nike Men's Air Versatile II if you occasionally play basketball and you still want to wear your basketball shoes outside of the court. It's the best when it comes to comfort, so if you have to be on your feet all day, you will definitely find this the most ideal. We like how it is versatile and comfortable enough to work as everyday shoes.
The Nike Men's Air Visi Pro VI shoes are the best Nike basketball shoes for people who are on a budget. They might be the least expensive but they don't compromise on quality and style. These shoes are great for those who occasionally play basketball but still need a good amount of support and comfort when playing. They're great as everyday shoes as well.
How to Buy the Best Nike Basketball Shoes 
Choosing the best Nike basketball shoes entails taking the following things into consideration:
Cushion 
Cushion is an important factor to consider when buying the best Nike basketball shoes. It will tell you how comfortable the shoes are when wearing them. Better cushion means more comfort. The technology you should look for should be able to distribute weight and impact effectively in order to prevent injuries.
Style 
Another thing to consider is style. If you want better ankle support, a high-top pair of Nike basketball shoes would be a better option because it locks even your ankles down. If you are a professional basketball player, you might want to go for the ones with good ankle support.
"Ankle support is important, unless you want to deal with injuries later (1)."
However, if you prefer something that you can wear even with everyday clothes, a mid-top pair of Nike basketball shoes would work perfectly. These still provide good ankle support and foot comfort but can be worn on a daily basis.
Traction Pattern 
The pattern on the sole of your shoes will determine how well it will grip surfaces. That is essential when choosing the best Nike Basketball shoes because it can prevent you from slipping on wood court surfaces. Nike shoe designers take a lot of things into consideration when designing the traction. They take rubber composition and surface ratio into account to create patterns that will provide the most traction.
Material 
Pick a material that is lightweight and breathable. You don't want the material to be too heavy that it becomes difficult to move your feet around. Most Nike basketball shoes you can find have a mesh upper, which is a breathable type of material, but they can also be incorporated with leather. Just make sure the leather material has perforations to allow breathability.
Budget 
Budget is subjective. If you want to find the best Nike basketball shoes, make sure it fits your budget. Set aside a reasonable budget, so you can still buy a pair that has reliable functions.
Frequently Asked Questions About Basketball Shoes 
Want to learn more about basketball shoes? Here are some frequently asked questions and their answers:
Are High Top Shoes Better for Basketball? 
High-top shoes are old school type of basketball shoes. They are reliable and supportive. But if you are looking for a modern look, the low or mid-top ones are better for you. The high-top ones also tend to be heavier.
How Tight Should Basketball Shoes Be? 
There should be enough room for your toes to wiggle around, otherwise, your circulation will be cut off. You don't want your feet to swell after an hour of playing.
How Big Should My Basketball Shoes Be? 
If your toes are constricted, they are too small. When trying them out, stand up and then move around. Also leave enough space for your socks. Make sure it's not too big that your feet keep slipping.
What's Next? 
See all the best basketball shoes out there. Use our guide to find the ones that ticks off the items on your list and find the shoes that have the features that will provide you with the comfort and support that your feet need.