It can be harder to find the best women's basketball shoes because – as you know – there aren't as many options as that of the basketball shoes for men…
So if you are here, you are probably looking for the best basketball shoes for women. Don't worry because we have all the information you need to find the best shoes with the most excellent fit, support, comfort, and style.
Keep on reading to find out which one the women's basketball shoes out there we recommend.
Best Women's Basketball Shoes for 2019 Reviews
Try checking out these basketball shoes for women:

Product
Details

#1 Nike Women's Court Borough Low Basketball Shoes

Retro Style

Star Rating: 4.2
Upper Material: Perforated Leather
Price: $$

Check Price

#2 Under Armour Women's Jet Mid Basketball Shoe

Great Fit

Star Rating: 4.1
Upper Material: Synthetic Textile
Price: $$

Check Price

#3 Under Armour Women's Jet 2019 Basketball Shoe

Holds Up Well

Star Rating: 4.4
Upper Material: Mesh Textile
Price: $$

Check Price

#4 Adidas Pro Bounce 2018 Parker Shoe - Women's Basketball

Electro-dipped Shank

Star Rating: 5
Upper Material: Premium Mesh
Price: $$$

Check Price
Here are the features that made these basketball shoes stand out from the rest:
1. Nike Women's Zoom Shift Basketball Shoe  
True to its name, the Zoom Shift basketball shoe encourages optimum performance from female basketball players. It allows you to become as agile as you can with its responsive design. The mesh upper material offers excellent ventilation while providing lightweight features. It also has a Zoom Air bag that works in cushioning the feet and providing the stability that you need to prevent injuries.
Like many of the new basketball shoes from Nike, this one also has the Phylon foam midsole. What it does is provide added cushioning comfort in order to jump and land with ease. It helps absorb the impact so your feet won't get injured in the process. The rubber tread pattern provides excellent traction, thereby allowing you to make those explosive movements without losing control.
Pros:
This is one of those basketball shoes that provides excellent lightweight properties. The textile upper does not feel heavy and does not weigh down on the feet. As a result, you can make quick movements with ease. This is great for players that need to be agile such as guards.
It features a stylish mid-top design that will make this work even when pairing it with casual clothes. You can wear with shorts and even skirts.
What is great about this is that it keeps the feet dry. The ventilation is good, thanks to the lightweight textile upper. Sweat does not accumulate easily so you can wear these for long hours even in the summer season when the temperature can cause sweating.
One of the things people love about this is its superior traction. They said the traction is just as reliable even when they are using it outdoors.
Many said this shoe is comfortable right out of the box. It didn't require breaking in.
The lockdown is fairly good for these basketball shoes. It doesn't feel like it is going to slip off. You also get excellent control over it since it keeps the feet in place.
There were no issues about heel slippage. Many are satisfied with its containment. They did not feel like the shoes will slip.
Cons:
There were those who said these shoes run small. They had to return it to get a bigger sizing.
2. Adidas Women's Pro Model Zero W Basketball Shoe
Boasting of a stylish upper and durable sole, this is the mixture of comfort, style and quality that most basketball players are looking for. The upper material is made from lightweight synthetic leather. It provides optimum protection to your feet so you won't get injured if someone accidentally steps on them. Couple that with its Kurim shell toe and you get a pair of basketball shoes that act as your barrier against potential injuries.
It is just as good on the inside. Featuring a PU insole, EV midsole cushion and torsion system, you can wear this comfortably for hours. It does not just provide excellent support and comfort but also keeps those unwanted blisters at bay.
Pros:
You can't go wrong with these shoes. They look stylish, so they can easily work with whatever you are wearing. They are so stylish, they can also be worn even when not playing basketball.
Everything about this speaks high-end design. The stitching is great and even the choice of material speaks high-end.
The leather upper and the Kurim shell toe keeps your feet safe from injuries.
It is one of the most cushiony and comfortable basketball shoes for women out there.
Many of those who wore this said they performed better when they are using this shoe.
It has a good fit. There were those who have narrow feet that said they did not experience issues with its fit.
Cons:
There were those who said it is a bit tight around the toe box area.
3. Under Armour Women's Jet Mid Basketball Shoe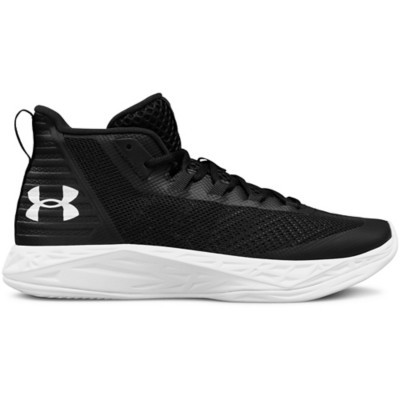 Made from a synthetic textile upper material and boasting of reliable breathability, this is one of those basketball shoes for women that seem to have it all. It also has a good balance of comfort and support, thanks to the ankle collar cushioning. There is a mesh panel found at the midfoot to provide optimum ventilation so your feet won't get overheated when you are training or playing.
Its molded heels provide the best locked-in fit. It keeps the heel in place, which can then prevent injuries. You can also wear these shoes for hours, thanks to its EV sock liner that cushions the feet like a cloud. The comfort is enhanced by its EVA midsoles.
Pros:
These shoes have the best cushiony comfort. You can be assured that you can perform to the fullest for hours without suffering from feet fatigue.
These are easy to use because they are lightweight. They don't wear out the feet easily, great for those long hours of training.
It has a good size. Many people said this is true to size.
The soles are thick enough for added protection and stability. It also allows for quicker and sudden burst of movements.
These are some of the most stylish-looking basketball shoes around.
The cushions absorb impact well. You can do those jump shots without experiencing strain.
Cons:
There were those who said this isn't the grippiest basketball shoe out there.
4. Nike Women's Court Borough Low Basketball Shoes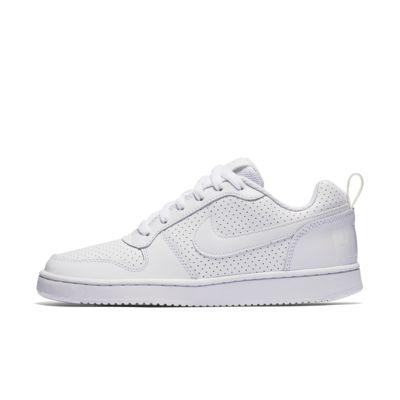 These retro style basketball shoes feature perforated leather upper material. With Nike's Swoosh logo found on the side panel, it is a striking pair of shoes that you can wear even off-court. It also features a rubber cup sole that effectively provides traction. It is very grippy, making way for better control on court.
You can get these basketball shoes in a variety of color options. It is also sold at a budget-friendly price, so if you don't fancy sending so much money, you definitely would want to consider getting this.
Pros:
It is a low-top shoe that has a style that will work for everyday clothes. You can pair it up with your clothes easily.
It is one of the most affordable name brand women's basketball shoes out there.
The combination of leather and suede material on its upper make this one of the most durable choices out there. It is excellent when it comes to preventing foot injuries.
There were a lot of wearers who said this shoe did not need breaking in. It has extremely plush cushioning, so there were no issues about its comfort.
Although it has a leather upper material, it does not feel hot when worn in the summer season. There were those who said it still remained cool and comfortable. That is thanks to the perforated detailing as well as the mesh material found in some parts of the shoes.
It seems to be lightweight.
The arch support is nice. Many said they practiced with it and walked with it without experiencing foot pain.
Cons:
The leather material is synthetic so it can end up creasing overtime.
Which Women's Basketball Shoes is the Best for You?
Lightweight Features: Nike Women's Zoom Shift Basketball Shoe. We think you can't go wrong with the lightweight features of this pair of shoes. The breathable and lightweight upper make this easier to wear, even when playing for hours. It is extremely comfortable and does not require breaking in. The cushioning insoles also provide ample protection to the arches of the feet, heels and ankle.
Great Cushioning System: Adidas Women's Pro Model Zero W Basketball Shoe. You can't find a pair of basketball shoes for women as cushiony as this one. It really delivers when it comes to comfort, so even if you are playing for hours, it will not hurt your feet. The style is also great for women who are looking for a subtler design and can be worn outside the court.
Excellent Stability: Under Armour Women's Jet Mid Basketball Shoe. When it comes to stability, you can't go wrong with this one. It has a good lockdown to it and your feet are supported from all angles. If you are looking for a pair of shoes that will provide cushiony comfort as well, this should fit the bill. The design is nice and can even work with everyday clothes.
Affordable Option: Nike Women's Court Borough Low Basketball Shoes. When it comes to the best and the most affordable basketball shoes, you should try setting your sights on this one. For its features, it has a good price tag. It is also one of the most stylish-looking in this list, making this a great choice if you want a versatile pair that you can wear with regular clothes.
So, which of these shoes is our favorite? We like the features of the Under Armour Women's Jet Mid Basketball Shoe best. It has superior comfort, is made from high quality materials and provides women with the support that they need in order to perform well on court. It is also stylish enough to be worn every day.
Tips in Finding the Best Women's Basketball Shoes
Need more help finding the best basketball shoes? Here are some additional tips to keep in mind:
Make sure it is made from a lightweight upper material.
Today, it boils down to having the most agile pair of shoes. You don't want the shoes to be too heavy that they can end up weighing you down, preventing you from running in full speed or from jumping higher. A textile leather upper is arguably the best choice. It is lighter and also boasts of more breathable interior.
Check if it provides excellent cushioning support.
Inspect the interior cushioning. Is it incorporated with some sort of arch-supporting and form-adhering foam? You would want the cushioning layer to provide the most excellent support so you won't have problems with feet strain and fatigue later on. That can happen when the shoes don't provide an adequate cushion.
Make sure it fits your style preferences.
There are a lot of stylish basketball shoes out there but if you also want to wear these out of the basketball court, make sure the design will work for everyday wear. Avoid those high-top ones as they are more difficult to pair up with regular clothes and will look odd with shorts. The low-cut ones tend to look better with all sorts of clothing and won't look ridiculously large on your feet.
It should be easy to clean.
A lot of people actually fail to consider how easy a material is to clean. Leather materials might be easy to clean as they only need to be wiped but be wary of exposing them to too much moisture and sunlight, especially the synthetic ones. They can crack.
Make sure it has a good squeak when you have explosive movements. Check the tread pattern and see if it can grip the flooring with ease. When it comes to traction, you would want to look for those with more intricate tread patterns.
Conclusion
We have all sorts of basketball shoe recommendations for different types of basketball players. See all our basketball shoe reviews for the products we recommend getting.