Are you looking for a reliable basketball backpack? You came to the right place. You can't carry all your basketball staff using just your arms, so it's important that you get a backpack that is spacious enough to carry all the things you lug with you for basketball.
We understand the need for the best basketball backpacks, which is why we sorted through the various options out there to find the ones worth your money. Our recommendations below are the ones that aren't just stylish but also spacious, multi-functional and durable, among other features.
Comparison Chart for the Best Basketball Backpacks 
Best Basketball Backpacks Reviews
"This backpack is recommended for those whose priority is a comfortable backpack with tons of space inside."
This basketball backpack is one of the best basketball backpacks out there because of its quality materials and spacious interior. This is the one we recommend for people looking for a backpack that won't dig the shoulders when the backpack gets heavy. Made from 100% polyester material and with a 28.5 L capacity, there's nothing this backpack can't do.
Pros:
"This is one of the best basketball backpacks because of its Adjustable HeatGear feature that allows users to adjust the shoulder straps to achieve optimum comfort."
We find that it doesn't hurt the back and shoulders even when walking for a few minutes.
Whether you are taking this bag to the gym or you are playing ball outside, it can withstand a good amount of abuse. The material used feature UA Storm technology, which helps in protecting the internal components of the bag from elements such as water. It is water-resistant, so it won't get damaged when exposed to some moisture and rain.
We like its versatility. It can double as an everyday backpack. Inside the bag, it features a laptop sleeve with soft lining that is big enough to hold a 15-inch MacBook Pro. The capacity is big enough for your books and other stuff. It's easier to organize your gear and clothes with the molle webbing separation in it.
Do you like playing basketball outside and you tend to just fling your bag around? This can be a better choice for you just because it is more durable. The bottom panel doesn't get scraped and scratched easily because it has abrasion-resistant properties.
Although it has a good quality and nice design, we find the price affordable. Even those who are on a budget will like how affordable this is.
You can put a regular-sized basketball in it and still have enough room for your other stuff.
Cons:
There is a compartment for your shoes to keep them separate from the rest of your clean items, but they are quite small and might be a tight fit if you have large shoes.
"This is a versatile, all-around bag for athletes and average people but on the higher end of the price spectrum."
If you don't mind spending a bit more money on a new basketball bag, you should consider getting this one. It's a versatile bag made from polyester materials. If you like a basketball bag that you can also bring to work, school or travel, look no further because this fits the bill with its large interior and modern exterior.
Pros:
"One thing that sets this apart from the others is its zip system. "
Its Nike Squad Zip system allows you to access the contents of your bag in all angles. We find that even if you wear the bag, you can still access the back and get the things you need.
This thing is spacious! It can accommodate not just one but two regular-sized basketballs. And although it has a good size, it doesn't feel too bulky.
There are so many backpacks out there with straps that can get hot after a few minutes of usage. That is not a problem with this. The straps have excellent ventilation, so they stay cool even when wearing the backpack for a long time. The straps can also be easily adjusted for a more personalized comfort.
Compared to the previous one from Under Armour, the mesh sleeves are big enough to accommodate bigger sizes of shoes. It can hold up to a US size 15 pair of shoes.
Another thing that we find ideal about this backpack is the wet or dry compartment. It is vented, so you don't have to worry that your entire bag will stink if you put sweaty basketball clothes and shoes.
Cons:
We wished this bag is more water resistant. It's not the best bag to wear when it's raining outside. We also wish that it comes with an electronic port at the top pocket where it is more accessible. This is the only pocket where you can put electronics because it can be zipped close.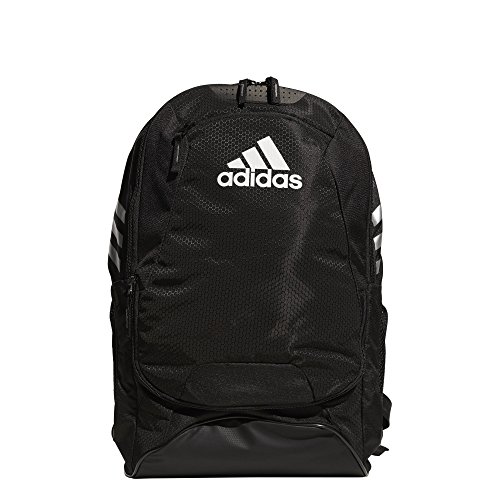 "This backpack is for the budget-conscious basketball players out there who are still looking for basketball backpacks with a good quality that won't cost a lot of money."
The cheapest one in this list is this Stadium II backpack from Adidas. Made completely from polyester, this bag has a simple and utilitarian design that is suitable for everyday usage. It is only available in one size but you can get it in different colors.
Pros:
Despite the low price tag, this backpack is equipped with a lot of sturdy materials. An example is its hydro shield base. This is water resistant, so if you accidentally put our bag on top of a wet surface, the moisture won't get in your belongings. This is one of those basketball backpacks with excellent durability.
"The fabric used is a 3D ripstop fabric, that is known for its durability."
The media pockets are zippered, so you can put smaller belongings inside without worrying that they will slide off and you will accidentally lose them. There is a mesh pocket outside that can hold a regular-size basketball. You can also use the ball pocket inside. It has a zipper to keep your basketball secure as well.
One design point that we find effective is the water bottle pocket. It has a framed edge at the bottom, which holds the water bottle in place. That is the problem with the previous brand. The water bottle holder does not hold water bottles well. This one does that effectively.
Although it is spacious inside, it has a compact size. If you are looking for basketball backpacks that are not bulky and are not cumbersome to use, go ahead and try this one. And because it is more compact, it is lightweight too. It's a great bag to lug around all day for school, practice or work. It is compact enough to be used by a child.
Cons:
Although it is a reasonably-sized bag, it's not as big as the previous bags. If you bring a lot of gear with you, this might not be the best option.
Conclusion 
We think you can't go wrong with these basketball backpacks. It's really just a matter of personal preference.
We find the Adidas Stadium II Backpack just right for average needs. It's not too big and clunky, so if you aren't storing too many things, this can serve you well. It's also quite a stylish bag, so it can definitely be used for a myriad of other purposes.
We like the Nike Hoops Elite Max Air Team 2.0 best because of its versatility. It's a big bag, so you can fit more in here. There are tons of compartments for all your stuff. If you are looking for a reliable bag that can serve you well during special cases like practice or travel, we do recommend getting this. It's pricier than the two, but if you don't mind forking the extra cash for a more reliable bag, go for this one.
The Under Armour Under sc30 is the best of both worlds. It has a good size and good comfort. It's not too cheap or too expensive but just right when it comes to its functionality and features. You can use this not just as a basketball bag but as an everyday bag too.
How to Find the Best Basketball Backpacks
Need more help deciding which basketball backpacks will fit your needs? Here are some factors to keep in mind when browsing through your various basketball backpacks options:
Capacity
Most of the basketball backpacks you can find today indicate the capacity. You can start your search from there. We suggest going through your different basketball paraphernalia first to see how much stuff you need to stash in your bag. That will give you an idea of how big a backpack you really need.
"Every basketball enthusiast needs a sports survival bag. (1)"
Also consider the shape and style of the basketball backpacks. They might look small and compact but there are designs that make bags expandable. That can significantly increase the number of things you can put in the bag.
Number of Compartments/Pockets 
Compartments or pockets are essential in keeping your bag organized. You don't want to stuff everything in the main compartment and call it a day, especially when bringing along a lot of small things like cold packs, mouth guards and many more that need to be separated. You would want to have more compartments in order to separate used clothes and avoid dirty and sweaty stuff from contaminating the rest of your stuff.
Material 
Find out what the basketball backpacks are made of. That will tell you how durable the backpack is and if it is going to be easy to clean. Most of the basketball backpacks today are made from polyester but some might come with materials like leather, which can make them difficult to wash as you won't be able to just throw them in the washer.
Strap Comfort 
How heavily padded are the straps? Are the paddings sufficient enough in providing comfort and support to your shoulders? The thinner the padding, the more likely it is for the straps to dig through your shoulders and cause discomforts. Also look for shoulder straps that are breathable. They should be adjustable as well.
Additional Features 
Look for additional features such as a water bottle compartment and water-proof exterior and bottom to make sure you are getting your money's worth.
Frequently Asked Questions About Buying Basketball Backpacks 
To learn more about basketball backpacks, here are some frequently asked questions and their answers:
Is a Basketball Backpack Worth It? 
It really depends on your needs, but you need to have some form of storage for all your gear and stuff. You can just bring them with you using your hands, right? For bags, you can choose from backpacks or shoulder duffle bags, which are also a popular choice amongst athletes. At the end of the day, it depends on which type of bag you find more comfortable and better to use.
How Big a Basketball Backpack Should I Get?
Most of the standard-sized basketball backpacks out there are enough for an athlete's needs. These basketball backpacks are designed to hold a single basketball and have more room for your other stuff such as shoes and clothes. But if you need more, there are some brands that offer basketball backpacks with different capacities.
How Do I Clean Basketball Backpacks? 
It depends on the materials used. Check the specifications of the manufacturer. Some can be washed in a washing machine while others should be hand-washed. Use a gentle detergent when washing your backpack and air dry them instead. You can also try disinfecting your backpack with a spray solution. Apply it all over the bag and then wipe it clean.
What's Next? 
Make sure you check out our reviews of the best sportswear. There are a lot of more athletic gear and products you might want to know to make sure you are getting the best ones.