Basketball is one of those sports that you can do even when you are garbed in your everyday clothes. However, if you want to perform better and reduce the risks of injuries, wearing the right sportswear is paramount. There is no shortage of sportswear out there but here are the ones you should add to your arsenal:
Basketball is a sport that requires a lot of knee action. It is important to strengthen your knees, so you are less likely to experience knee injuries. Wearing knee sleeves can help a lot when it comes to preventing knee injuries and boosting basketball performance. The compression effect helps blood circulate around the knees better. More blood flow means more oxygen and more oxygen means better healing and performance.
Get This: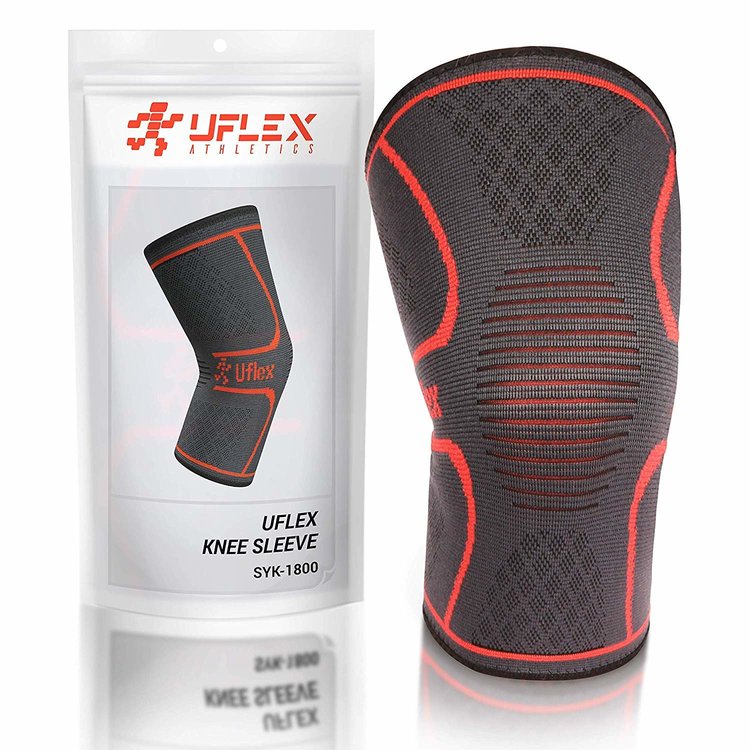 This is the best knee compression sleeve to get because it trumps all others when it comes to compression and pain relief. It does that with its 3D knitting technology. This material stretches in 4 directions, offering a better fit in different parts of the knees. It doesn't ride up or slide down when you play basketball aggressively.
While we're on the subject of slipping, it also has anti-slip silicone to allow the knee sleeves to stay in place no matter how much you move.
For something as cheap, you would be surprised that it is actually well-built. All the seams and edges hold up well against a lot of abuse. Even when used for training every day, it holds on to its compression and elastic properties. You can wash it using a mild detergent in a delicate cycle to prolong its life.
Many people have attributed their success not just in basketball but also in other sports like hiking, running and cycling to these knee sleeves. Even those who already have pre-existing knee issues did not suffer from inflammation quite as much as they did in the past. The support these knee sleeves provide is better than many of the similar-priced models out there.
Another thing that sets this apart from the others is how comfortable the material is. There are a lot of knee sleeves that can irritate the skin when used for a long time. This one doesn't have that issue. It also doesn't uncomfortable pinch leg hair, so there are no shocking discomforts of your leg hair being pulled.
At first, it can feel a little snug, especially if you are not used to wearing compression sleeves. However, after a day of wearing this, you won't even notice it's there. It's really a great choice for basketball players and outdoor and sports enthusiasts in general.
See more  …
Arm compression and shooting sleeves follow the same principles as knee sleeves. They compress the arm area to allow oxygen-rich blood to circulate in this part of the body better. The results are better performance and less aches and pains. If you already suffer from arm pain and inflammation to begin with, using arm compression and shooting sleeves for basketball would help minimize pain and inflammation as well as speed up healing for existing injuries.
Get This:
This arm sleeve encompasses the entire arm – from the biceps to the elbows and forearms. It provides whole arm coverage for maximum support. The fabric used is smooth and comfortable. You can easily slide your arms in it but it won't ride up or slide down once it is in place. The bicep part has a cuff that keeps the sleeve stationary.
You can wear it for a long time and forget that you even have it on. That's how comfortable this is. It is also capable of wicking sweat and doesn't retain moisture like a lot of the compression sleeves out there. It also has UV protection, so if you plan on using it outside the basketball court, it will still work in protecting your arms. In the winter season, you can also wear it under your clothes for added heat and thermal protection.
It's not the cheapest compression sleeve out there but the price is reasonable considering its quality. The exterior of the fabric is also smooth and doesn't snag everywhere, which can happen with some compression sleeve materials.
These sleeves come in different sizes, but you should be fine even when you size down. It has a snug fit that feels initially tight but after wearing it the whole day, it feels comfortable and isn't constricting at all. It doesn't feel like your arms are being compressed but you still get all the benefits it promises.
See more …
Ankle injuries are some of the most common basketball-related injuries due to the foot maneuvers that are usually employed when playing basketball. Many athletes have fallen prey to ankle injuries. It can ruin your entire basketball career.
Aside from training and strengthening the lower part of your body, you can also wear an ankle brace. It stabilizes the ankles and provides support, so you can perform intricate footwork without worrying that you will pull a muscle or ligament.
Get This:
The well-thought-out design effectively supports the ankles while playing basketball. The strap design is unlike the usual ankle braces you can find in the market today. It has a unique design that mimics the figure 6. It's easy to strap yourself in this ankle brace and take it off when you are in a hurry. The strap system keeps the brace in place. It doesn't wobble and you can adjust it to your preferences.
This ankle brace is made from a type of polyester fabric. It is thick enough to provide utmost support to the ankles but still breathable enough to prevent moisture and heat from being trapped. The fabric is also lightweight. It doesn't add up to the weight of your shoes, so it doesn't feel like you are wearing anything at all.
You won't suffer from ankle scrapes because the cuff is padded. The closure is also reinforced so it stays put but without feeling like your ankles are being constricted.
Overall, it has a good construction. It feels solidly built and doesn't look like it's going to fall apart anytime soon even when you use it to play basketball every day.
Those who are recovering from ankle sprain said they found this helpful. Not only where they able to become more mobile while recovering, their recovery period also progressed faster because of this brace.
The problem with this is that it tends to come small, so you would want to size up. Keep in mind that aside from the strap system, it also has a lace up system, so that could be the reason why it can be too tight if you get it in your usual size.
It can also stretch your basketball shoes. It should be a big deal when using it but that can impact the lifespan of your shoes. It might inadvertently inflict more wear and tear to your shoes.
See more …
There is no shortage of basketball shorts in the market. It's really more than just a fashion statement. If cyclists find more comfort in wearing cycling shorts, basketball players will also play better when they are wearing basketball shorts.
You can find an assortment of styles today. Some are even reversible, which can help extend your basketball wardrobe.
Get This:
This basketball shorts from popular sportswear brand Under Armour is made from 100% polyester material. It's a material that is comfortable enough to wear for sports activities but durable enough to be subjected to wear and tear. You can choose from different styles and colors to fit your basketball wardrobe.
The material also boasts of UA Tech that makes it easy to dry up and soft to the touch. Unlike other polyester fabrics that tend to feel stiff, this one feels soft. It glides on your skin easily, so there are no risks of chafing, especially if you engage in basketball activities that can be rough and aggressive. It doesn't come with a liner though but even if it is missing, it's still quite comfortable.
The material also dissipates sweat and moisture easily. It doesn't linger and doesn't give you that sweaty appearance. There are other basketball shorts that tend to hold on to moisture, so they look like they have been splashed with water.
We like how comfortable the waistband is. It has a snug fit that keeps the shorts on but it's not too tight that it leaves indentation marks on your waist. It also has a drawstring cord, so if you feel like it's too loose for you, you can simply adjust the drawstring for a better fit.
The hand pockets are a nifty feature as well. You don't want to carry anything in your pocket while playing basketball but after the game, you can put small things like money or keys in the pocket.
These shorts also hold up well against frequent laundering. We suggest running it in a cold cycle and wash it with a mild detergent. You can dry it or hang it to dry.
The length is just right. For average people, it sits somewhere above the knees. You can still freely move your legs with this.
See more …
You might not see it but socks are actually an integral part of your basketball set up. It is important when it comes to protecting your feet from blisters and even from ankle injuries. The right socks can provide mild compression benefits that will help you stay comfortable while you are on your feet. Needless to say, choosing the right pair of basketball socks can improve your performance.
There are different basketball socks today. Which one you should choose will depend on your preferences. Some people prefer a longer pair of socks while others prefer something shorter. They also come in different materials. Choose one based on your specific needs but also take into consideration things like the weather or temperature. If you are going to play in the winter, go for something thicker, so that it can still provide your feet with warmth.
Get This:
These stylish socks will tie your basketball look together. They are not as colorful as other basketball crew socks, so if you are looking for a more versatile, wardrobe-friendly sock that you can wear with your everyday garb, this is an excellent choice.
It has a myriad of features including its moisture transport system. As you know, the feet can sweat a lot and with sweat comes bacteria. Your feet can easily smell funky after a basketball session. This can save you from a lot of embarrassment as it wicks sweat away. The material of the sock stays dry. Aside from that, it also has intrinsic anti-odor technology that prevents the growth of odor-causing bacteria.
Basketball players will find this sock great for improving performance. It has arch support that naturally provides stability to the feet. It helps alleviate foot fatigue, which often happens because the arches are not stable. Half of the sock is also cushioned. This cushion is just a thin layer that won't impact the way you walk or run but is thick enough to provide significant comfort.
The heel and toe area are also reinforced. Since these are the areas that wear out faster, having them reinforced means your socks can last for a long time. You can probably find cheaper alternatives but if you want your basketball socks to have all these features, we think it makes sense to splurge a little bit.
Cleaning this sock is easy. Throw it in the washer, put some mild detergent and run it in a cold cycle.
Conclusion 
Check out our most recent basketball reviews on our homepage. Find more products suitable for your needs.
You can also check out our latest sportswear reviews: