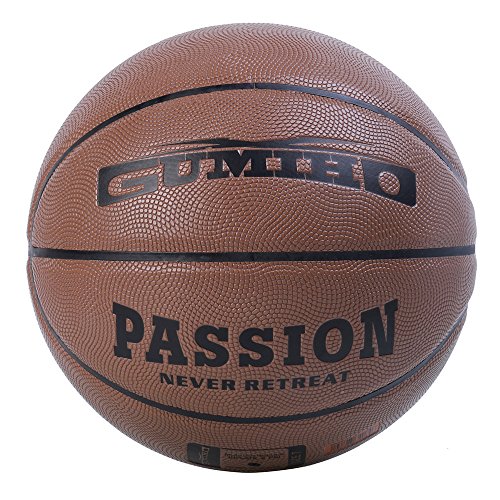 Many outdoor basketballs are comprised of either rubber or a composite leather. A third option to consider, PU leather, is the closest that you'll get to a real leather cover that can be used effectively outdoors. The XGumiho outdoor PU leather basketball is composed of leather scrap and polyurethane, giving you a reinforced cover that can be used outdoors, but will also give any court an authentic ball reaction with any shot.
PU leather is still a composite leather, but this type of cover is often referred to as a "microfiber" cover. Its durability is superior to other composites, allowing you to take the basketball into several different environments with success. This basketball works just as well in the driveway as it does in your local gym.
What to Expect When Using the XGumiho Outdoor Basketball

We found the bounce of this basketball to be consistent on a variety of surfaces. It does the best on a wooden surface, but it performs almost the same way on concrete. If you're just getting started with the game, you're not even going to notice the difference. In return, you're given the opportunity to train your game wherever you happen to be at the time.
This basketball also comes with its own inflator, which you're going to need to use since the ball is shipped flat. Not a big fan of that shipping method since a lot can happen in transit and a flat ball won't always stand up to that abuse, but our ball arrived fine. You'll need to judge how much air that will need to be put into the ball. Keep going until you receive a bounce that feels right to you.
Once inflated, we found that the grip was pretty consistent to other outdoor balls that we have used. The bounce stays consistent. There is some excessive logoing on the ball that can affect a shot, but it isn't a deal-breaker by any means. Expect this ball to smell really bad when you first receive it.
Our Notes from Using the XGumiho Outdoor Basketball

Don't go into this purchase thinking that you're getting a professional quality ball at a discount. It is not going to withstand the rigors of daily practice and play. Think of this basketball as a good recreational ball and for outdoor play with the kids.
Over time, the ball does become slick with use. It has a comparable longevity to other basketballs of this quality and type.
The weight of the ball is about what you'd expect it to be, though we felt the ball seemed a little light in comparison and the outside shooting brought about rebounds that were a bit longer than normal. You get a good spin with the ball and backboard reactions are fairly consistent. It is somewhat deadened on acrylic backboards, but performed like any other basketball would on tempered glass.
If you're looking for an affordable practice ball or a durable driveway ball, give the XGumiho outdoor PU leather basketball a strong look. We think you'll like what you see.
Click here to compare pricing on Amazon and get an awesome deal.
What's Next
See all our basketball reviews and find even more helpful buying advice here!