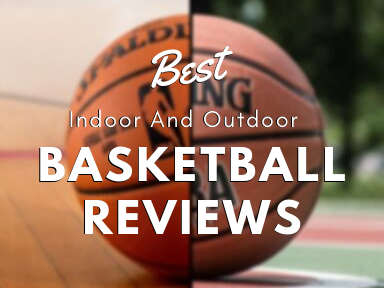 Growing up, whether I was playing indoors or outdoors, I always had the right ball with me…
But I had to carry around two different basketballs with me everywhere I went depending on what type of court I was playing on.
Not anymore.
These days, you can find great balls made for both indoor AND outdoor conditions. The biggest trouble is narrowing down your options to suit your needs.
Whether you tend to play indoors or outdoors (or both!), one of the options reviewed below will work for you.
Our #1 Pick for the best indoor/outdoor basketball is the Wilson Evolution. With this one, you will no longer worry about your indoor ball losing its grip and feel on pavement – or having to bring a slippery rubber outdoor ball inside…
Best Indoor/Outdoor Basketball 2019 Reviews
Product
Details

1. Wilson Evolution Game Basketball

Best Indoor / Outdoor

Easy to Grip
Sizes: 27.5", 28.5", 29.5"
7 Colors

Check Price

2. Spalding NBA Zi/O Indoor/Outdoor Basketball

Great Air Seal

Check Price

3. Wilson NCAA Replica Game Basketball

Consistent Reaction

Sizes: 28.5", 29.5"
2 Colors

Check Price

4. Baden Crossover Flex Composite Basketball

Great Bounce Reaction

Sizes: 27.5", 28.5", 29.5"
4 Colors

Check Price

5. Spalding NBA Varsity Outdoor Basketball

Easy to Grip

Sizes: 28.5", 29.5"
8 Colors

Check Price

6. Under Armour 395 Indoor Basketball

Solid Durability

Check Price

7. Molten X-Series FIBA Approved Basketball

Easy to Track Rotation

FIBA Approved
Sizes: 27.5", 28.5", 29.5"

Check Price

8. Mikasa BX1000 Premium Rubber Basketball

Cheapest

Sizes: 25.5", 27.5", 28.5", 29.5"

Check Price

9. Under Armour UA 495 Womens Basketball

Doesn't Hold Air Well

Check Price
In our opinion, the Wilson Evolution Indoor Game Basketball is the best indoor/outdoor basketball. Period.
Here's why:
The grip on this composite leather basketball is about as close to the feeling as you'll get to the older leather basketballs. No matter where you happen to grab the ball, you'll have the right grip to take your shot. The touchpoints give you the control you need.
We also like the channels that have been built into this basketball. They're promoted as "moisture-wicking channels," but in reality, they reinforce the grip that you receive from the pebble touchpoints.
Plus, the depth is just right, allowing you to put on the proper spin during a layup so you can kiss the glass with ease.
CHECK CURRENT PRICE
The grip on the ball does tend to smooth out over time, especially if you are primarily using the ball in an outdoor environment. We found the cover tends to scratch up a bit, especially if you're using the ball on a surface that can be somewhat gritty.
But it gets better:
The seams maintain a good air seal during practice or gameplay so that you don't wind up playing with a partially deflated ball.
If you're a driveway player and this ball could come into contact with gravel, you might want to consider a cover that contains a harder surface.
CHECK CURRENT PRICE
If you grew up in the days of the genuine leather basketball, then your complaints about this composite leather cover are going to be the same as they would be for any other similar ball.
The reaction of this ball is a little different from real leather, but it is comparable to the professional-quality basketballs that are on the market today. Rim reaction, dribbling, and passing are all consistent thanks to the structure of this basketball.
"Cushion Core Technology" gives you the feeling of a genuine leather basketball when passing or shooting.
CHECK CURRENT PRICE
Cylinder reaction was good from an indoor and an outdoor perspective.
The type of backboard being used, however, did somewhat dictate the experience of using this basketball once again.
If you're using an acrylic or polycarbonate backboard, we found that this ball would give us a superior reaction compared to other basketballs. For a tempered glass backboard, the reaction was much less than we'd expect.
CHECK CURRENT PRICE
The replicated pebble grip on the rubber cover is very similar to that of a composite leather ball. Even when the basketball is wet, you're still going to feel some grip on the ball.
You still have dribbling and passing control as well. It really is remarkably easy to hold, no matter what the conditions may be outside. It also provides a consistent reaction in cold weather.
It doesn't feel like you're throwing up a weighted brick toward the rim and you still receive a good rebound opportunity if you happen to shoot a brick.
CHECK CURRENT PRICE
Although the composite leather is fairly durable,
we found that the structure of the ball is built more for an indoor court.
It doesn't take much for this basketball to begin scuffing up and becoming slick to the hand, even if you are using it on a well-maintained park basketball court.
If you have one of the best backyard composite tile outdoor courts, however, this basketball maintains itself pretty well.
Just beware: the "395" logo on the ball is a unique feeling on the hand, especially if you're trying to go up for a touch shot.
CHECK CURRENT PRICE
Shooting is just one skill that players need in the modern game of basketball. Rebounding is also required. Knowing how to box out properly is important, but so is being able to track the rotation of a ball.
When you can see how a ball is going to react in the cylinder before it gets there, it becomes possible to anticipate where the rebound location will be. That tracking ability is called "having a nose for the ball." The X-design on the synthetic cover of this basketball makes it easier for beginning rebounders to track its rotation.
By watching the rotation as it hits the cylinder, players can then see how the ball reacts and where its movement will take it.
CHECK CURRENT PRICE
If you're working with kids to build basic basketball skills, like dribbling drills, passing drills, and game familiarity, then the value of this entry-level basketball becomes very clear:
You'll get a consistent reaction from the ball that will help kids begin to pick-up the game.
The ball also looks pretty good, which makes the kids want to play some basketball as well. It's a premium rubber basketball is a good quality for the price when looking at it from the perspective of a school, youth program, or for a home recreational need. Serious players may need to step up to a different ball.
CHECK CURRENT PRICE
Many outdoor basketballs don't give you the same feel of gameplay that indoor basketballs tend to provide. Because of this, they're often treated as a recreational ball at best.
The look, feel, and bounce of the Under Armour 495 is authentic in every way, even when it is being used in an outdoor environment.
It feels just as good at the park or in the driveway as it does when you bring it to the gym.
CHECK CURRENT PRICE
Indoor/Outdoor Basketballs: How to Choose the Best One for You
There might not seem like much of a difference between an indoor basketball and one that is designed for outdoor play, but there really is. The texture of the ball, how it dribbles, and even your ball handling changes between indoor/outdoor and outdoor only basketballs. The durability needed for a basketball in a gym is also different than that of a basketball on the street.
These are the best basketballs in both categories that will help you practice and play every day because of their consistent performance.
What Is the Difference Between an Indoor Basketball and an Outdoor Basketball?

The primary difference between indoor basketballs and outdoor basketballs is the material used for the ball itself. Most indoor-only basketballs are made from a full-grain leather, which is the best smell in the world. When you first use these basketballs, they tend to be a bit slick on the hand. You need to break them in and then continue to condition them in order to receive a consistent performance.
Outdoor basketballs need to stand up to different environments, so they need to be tougher. They must deal with concrete, asphalt, or composite surfaces instead of a wooden floor gym. This means many outdoor only basketballs are made from rubber, making the basketball feel a little heavier than normal.
A good compromise between these two extremes is the indoor/outdoor basketball. These are typically made from composite leather, so it is more durable than an indoor basketball on surfaces that are different than a gym. It also feels and reacts naturally, unlike some rubber balls that tend to have some extra bounce to them.
Choosing the Right Size of Basketball: 3 Facts You Need to Know

Basketballs today come in all different shapes and sizes. Some of the cheaper rubber basketballs even put some fun graphics onto the basketball. If you just want a basketball for fun, then choosing the right size doesn't really matter.
If you're ready to take your game to the next level, however, you'll need to grab the correct size of basketball for your next practice session. Players develop muscle memory based on the weight, feel, and flight of the basketball. If you use one size to practice and then another size for your games, then bricks are going to fly.
There are three standard basketball sizes that are generally offered for sale today.
Size 5. These basketballs are generally for youth players. They are generally 27.5 inches in diameter and weigh 18 ounces.
Size 6. These basketballs are for teen boys and all women's competitions. This basketball is 28.5 inches in diameter and weighs 20 ounces.
Size 7. This is the standard basketball for men's collegiate, NCAA, and professional competitions. It measures 29.5 inches in diameter and weighs 22 ounces.
Choosing the right size of basketball at an early age helps to develop the dribbling and shooting mechanics properly. A smaller ball with smaller hands helps players to learn control and maneuverability.
What Basketball Brands Are the Best to Buy?

There are several basketball brands that are worth considering today. Here are some of the biggest names in the industry that are worth looking at.
#1. Spalding. Spalding has been manufacturing sporting equipment since 1876. They have been the official NBA basketball partner since 1983. You'll find a variety of indoor/outdoor basketballs and outdoor only basketballs that will suit the specific needs of each player.
#2. Wilson. If you didn't grow up playing with a Spalding basketball, then there's a good chance you had one from this brand. Wilson basketballs are now used quite often in high school sports thanks to their unique grip and removal of the traditional rubber channels.
#3. Nike. Although Nike basketballs are somewhat rare in the United States for competitive purposes, they are the primary game ball for many international leagues. You'll find one of the widest selections of recreational and street basketballs with this brand.
#4. Molten. If you're looking for a FIBA-style basketball, then this is the brand you're going to want. [1] Look for the Elite series of basketballs from this Japanese manufacturer for the best results. There are also several good casual-use basketballs for sale with this brand.
How Much Do the Best Indoor Outdoor Basketballs Cost?

If you're shopping for a new basketball today, it is important to consider quality above anything else. A high-quality basketball can give you years of practice and play. Cheap basketballs can save you money now, but you'll likely need to replace the entry-level basketballs by the end of the season.
The best indoor basketballs tend to be priced between $50-$100. Outdoor only basketballs tend to be a little cheaper thanks to their composition, so you'll find several options priced between $15-$30. Composite leather basketballs that are for indoor and outdoor use are usually in the $40-$75 price range.

What's Best About Each Basketball
Indoor/Outdoor:
Outdoor Only:
Conclusion
The a good ball use will help you improve your game in a wide variety of ways. Select the ball that best meets your needs today, whether you hit the gym or your driveway, and then be prepared to have some fun.
If you're ready to buy a great ball, we think that the Wilson Evolution Game Basketball really does pip the others at the post in terms of overall value, quality, and grip.
What's Next
Check out our individual reviews of some of the best basketballs on the market today:
https://ballersguide.net/review-wilson-ncaa-replica-game-basketball/
https://ballersguide.net/review-spalding-nba-zio-indooroutdoor-basketball/
https://ballersguide.net/review-under-armour-395-indooroutdoor-basketball/
https://ballersguide.net/review-wilson-evolution-indoor-game-basketball/
https://ballersguide.net/review-baden-crossover-flex-composite-basketball/
https://ballersguide.net/review-spalding-nba-varsity-outdoor-rubber-basketball/
https://ballersguide.net/review-under-armour-495-indooroutdoor-basketball/
https://ballersguide.net/review-xgumiho-outdoor-pu-leather-basketball/
https://ballersguide.net/review-mikasa-bx1000-premium-rubber-basketball/
https://ballersguide.net/review-molten-indooroutdoor-basketball/